According to data revealed by the Global Strength Indicator (GTI), Bitcoin is currently being overbought, something which analysts suggest could either spell moon or doom for the #1
Bitcoin (BTC) is currently in an ongoing battle with $5000 mark, and for the most part appears to be succeeding however its next conquest, which looks to provide much more resistance is $6K, which, once overcome, may prove to be the final nail in the coffin of the bear market. For now, at least.
However, before anyone starts celebrating too much, there appears to be one hurdle in the way:
BTC is overbought.
The GTI, a tool which measures BTC volatility is currently relaying that the #1 is currently displaying the same levels as it did in December 2017, indicating that it is currently significantly overbought.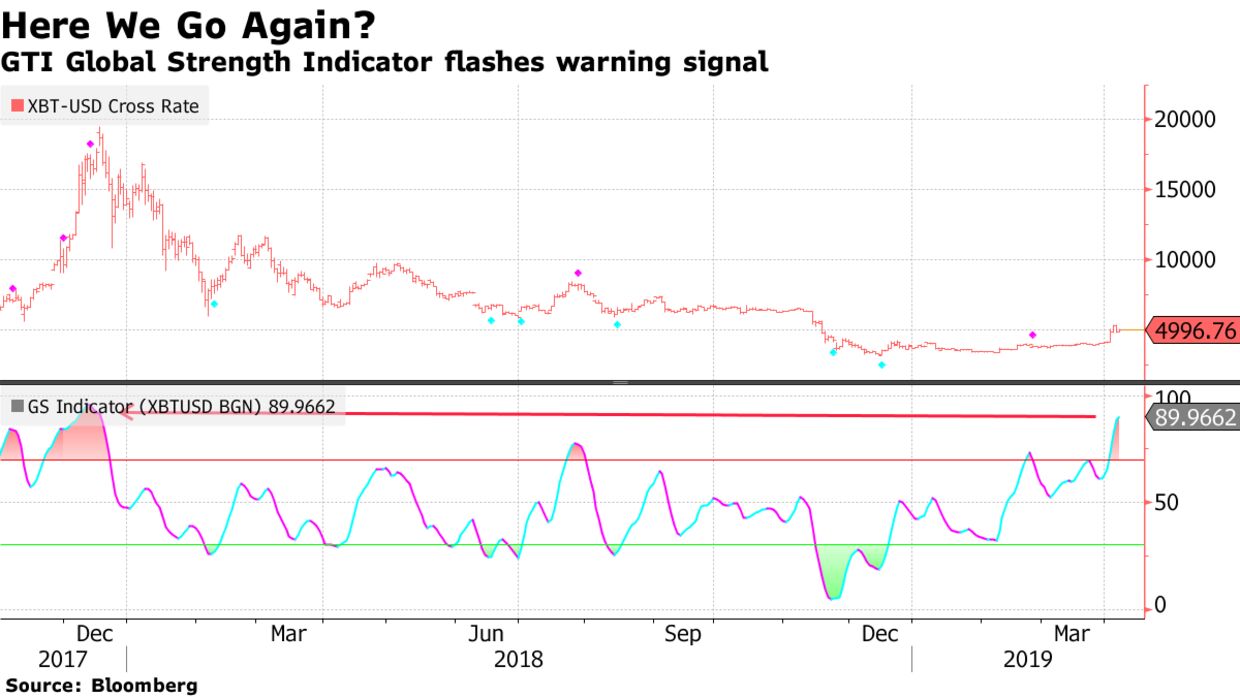 This was pointed out by
Bloomberg
market analyst Mike McGlone who took the time to remind everyone just what happened last time these levels were reached, specifically the historic crash that followed…
"The market got so compressed, volatility was so low, it just went poof! It broke out. It was released from the cage. Now it's a question of duration and I suspect when you have such a massive bubble, you'll always have an overhang of people who need to sell."
On top of this, David Tawil, president of crypto hedge fund ProChain Capital added that while this recent pump might be considered as a positive (and exciting) move, it's not particularly sustainable:
"Certainly, an investor would much rather see a gradual rise with constant floors in terms of downside being established, as opposed to a very, very quick run-up. It could easily be easy come, easy go."
Luckily there is, as ever, a bull case, this time provided by Peter Brandt.
As reported, Brandt suggested that rather than any downside, Bitcoin could be on the verge of a "parabolic phase" similar to the meteoric rise of 2017:
However, as they say, what goes up must come down, and that's as true for the crypto market as it is for physics. Multiple iterations of bull and bear market cycles can be explored throughout bitcoin's price history, and while overall we continue to build, inevitably there is always a downturn at some juncture.
So it appears the real question is, how much longer will BTC go up before coming back down again?
For now, $6k appears to be the major hurdle that will provide this answer.