Crypto Reddit is wary of Substratum (SUB) again in the last few hours, with posters having noted that the team members section has been removed from the polemic project led by self-acknowledged pump-and-dumper Justin Tabb.
The red flag was raised about 5 hours ago by redditor krispykream2012, who opened
a thread
noting the removal of the page containing short biographies for Substratum's team members out of the official website of the project. However, the page still remains accessible following the direct URL.
Dates of the removal of the section appear to be subsequent to the delisting of Substratum from Binance around mid-February, a decision which was publicly criticized by the project's CIO. CZ grounded the decision in the news regarding the day trading of Substratum's funds, which sparked after CEO Tabb hinted in that direction on a video shared by himself.
Another shade of doubt casted upon Substratum is its current financial state, following a decrease in price of about 96% in the last 12 months, and even more if measured from all-time highs around early January of 2018.

After its delisting on Binance, SUB only remains available for trading on a handful of exchanges, and according to crypto metrics website
Coingecko
most of its volume in incentivized ones (and therefore, with allegedly untrustworthy volume reports) such as ZB and EXX. In the 24 hours prior to writing, volume traded amounted to just $60,655, of which about $55,700 came from the two aforementioned exchanges.
The Ether address
0x102B8411F5BD876D5F479a43Bc2db29556B45ad3
, which according to the original poster belongs to Substratum, is also evidencing the financial difficulties of the team. Although it still holds around 3,200 Ether worth around half a million USD at writing time, transaction history evidences how it Substratum has send out to Gemini and Kraken accounts more than half of the 8,850 Ether that it originally held.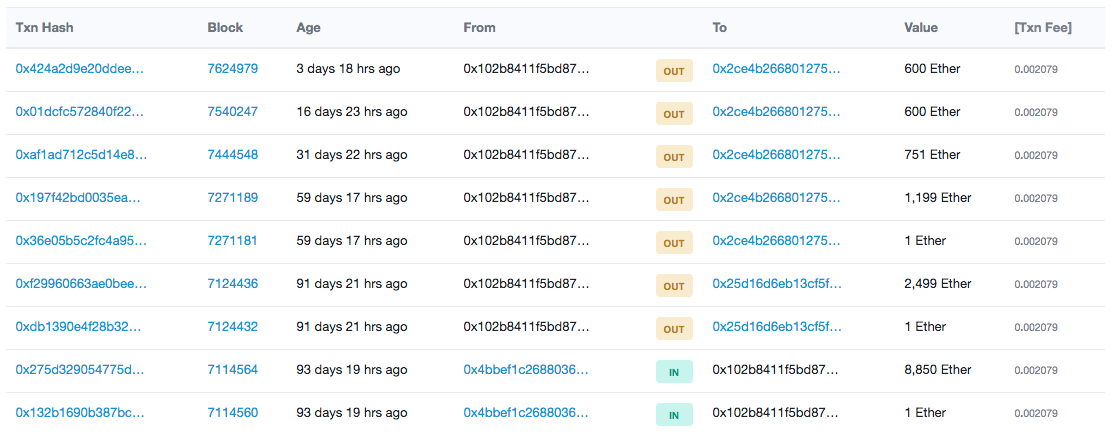 The emptying of the funds started around late January, two weeks before the Binance delisting, and has kept going on until now, with the last outgoing transaction just three days ago.
Dominating sentiment among commenters is mostly outrage, a reccurrent feeling at the least mention of a project which appears to have lost all credibility among the crypto community.