The experienced commodities trader and technician, Peter Brandt, took to Twitter to point out that it is 'Do or Die Time' for XRP.
The 71-year-old veteran trader, became best known as being one of the first who accurately predicted the end of the bull run in December 2017.
Brandt turned out to be spot on with his predictions, both at the end of January 2017 and pretty much ever since.
Today he took to Twitter to point out that XRP is hitting a 'Do or Die' price point, because XRP is currently hitting a historical level of support.
If XRP turns out to be unable to keep on trading above its current price levels, a significant price drop could be on the horizon.
Ryan W, another popular crypto analyst on Twitter, tweeted that XRP weathered the storm better than he expected, and that bulls need to retake the $0.30 price mark, or further losses could be recorded.
XRP is currently trading at a price point of $0.297, showing a minor loss of -0.41% on the day.
XRP's price dropped below the $0.30 mark a few days ago, when the entire crypto market dropped after news broke surrounding the Tether and BitFinex debacle.
However, Ripple´s XRP, has been on the slower side of price increases since the beginning of 2019, and has lost about one third of its Bitcoin valuation, as shown by the yellow, descending line on the graph below.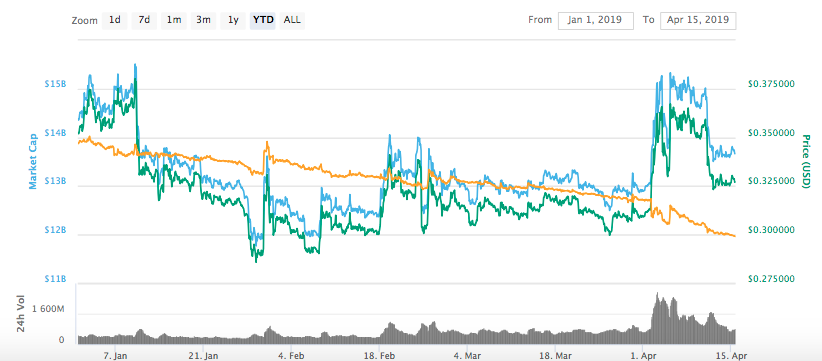 On the positive side of things, The Cryptomist, a popular cryptocurrency analyst on Twitter, believes XRP is due for a bounce in the next week.
We can all hope.