Ripple Labs sold 20 million XRP, adding a fresh $7 million to the company's pocket, the community wonders what they're used for.
A new update came from Ripple Labs. The company behind XRP is said to sell 20 million XRP worth around $7 million just a couple of days ago.
The sale occurred over the counter (OTC) dated April 17th, as shown by the image taken from Bithomp below.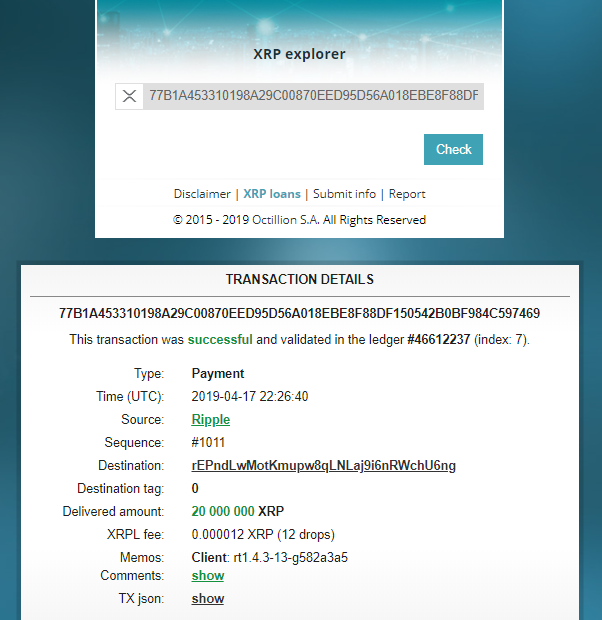 Although the amount can be considered as small compared to the overall constant liquidation of token, there are still those who question the purpose of the sale.
"The XRP circulating supply has increased from 40,794,121,066 on December 16th to 41,706,564,590 on March 17th. That is an increase of almost 1 billion XRP in 3 months and it is similar to last quarter's increase," said XRP army, Leonidas Hadjiloizou on XRP Community blog.
According to Trust Nodes, during 2018 alone, Ripple Labs sold a total of $535.56 million. While earlier this month, it was also reported that the company released 1 billion XRP from its escrow and offered them to partners and 3rd parties.
Added with the most recent sale, Ripple Labs has received an approximate of $250 million to $300 million, as reported by
Trust Nodes
.
There are several presumptions on where the fresh funds go. It might go towards their sparkling office in San Fransisco, or it could be used to pay for their employees, as David Schwartz, Ripple's cryptographer chief previously said that salaries for crypto talents have gotten insane.
However, with a fierce competition going on in the crypto space, marketing cost has become increasingly expensive over time, there's also a high chance that the money goes towards the company's marketing efforts.
Regardless how Ripple Labs spend their funds, how XRP is doing in the market would be the best measure on whether or not the spending has been on point.
As of writing time, XRP is the third largest crypto by market cap with a total cap of almost $14 billion. The price hovers at $0.33 and has a 24-hour trading volume of almost $1 billion.
Bitcoin, on the other hand, has seen good days in the last couple of days with price as of writing time $5,347.33. Where will it go from the current state? Check out Chepicap's YouTube channel to find out.