A member of the XRP community, going by the Twitter handle@Parisbydavid, is asking Skype to integrate XRP as a currency of choice for settling micro-transactions.
The Ripple community has turned its focus on Microsoft's messaging platform Skype and is now asking them to integrate XRP as a currency of choice into Skype VoIP and conference system.
A member of the XRP community, going by the Twitter handle @ParisbyDavid, told Skype that the age of MicroPayments has carrived and XRP needs their support.
'The era of Internet of Value is knocking at the door', the Ripple enthusiast said. 'My idea is to implement micropayments in Skype. Allow us to buy SkypeCredits with XRpTipBot , allow us to send micro payments on Skype chat as well.'
ParisbyDavid goes on to explain that the XRPtipBot is already available for a variety of social media platforms such as Twitter, Reddit, and Telegram, and points out that it is 'pretty easy to implement'.
Perhaps somewhat unexpected the Skype team actually took the time to respond to ParisbyDavid.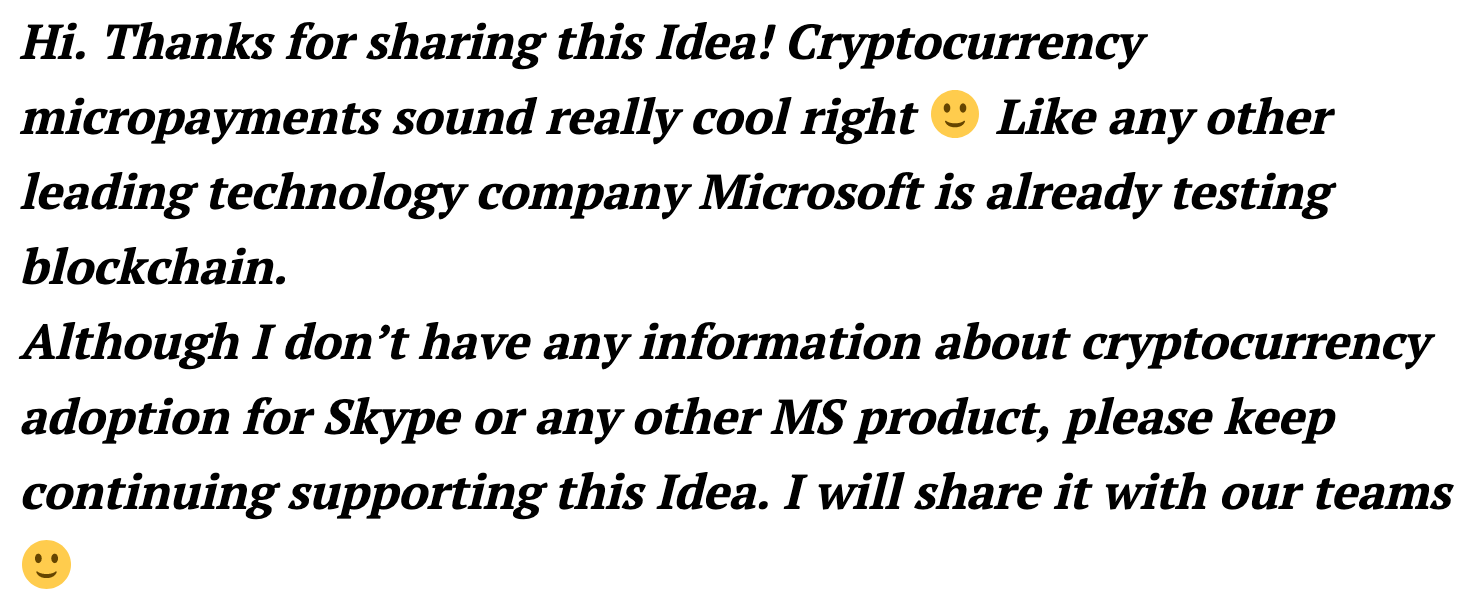 The Skype team notes that although they like the idea, they point out the fact that Skype is just a small unit of Microsoft, and that integrating cryptocurrencies would have to be accepted across the company, which may take a while if they decide to do so.
Definitely not a 'close-the-door' kind of reply. If anything, it shows that there actually might be a chance that XRP, one day, might be added to Skype.
Another well-known XRP Twitter user, Bank_XRP joined in on the conversation, urging the XRP community to vote and get XRP added to Skype.
At the time of writing, the request to add XRP to Skype has received close to
1380 votes, and we can expect many more to come from the XRP community
members.