Just a few hours ago, the world's number one cryptocurrency surged towards the $8,940 price level before a slight pullback. The next step is of course to reach the $10,000 price mark, but will BTC reach the 10K this week?
According to Tradingview Bitcoin reached the $8,940 price level a few hours ago, which was the highest price BTC traded at in the last 12 months.
The last time the world's most popular cryptocurrency was trading anywhere close to $9,000 was in the beginning of May 2018.
Bitcoin has corrected slightly since then, and is currently trading at around $8,741, while showing impressive gains of almost 10% on the day.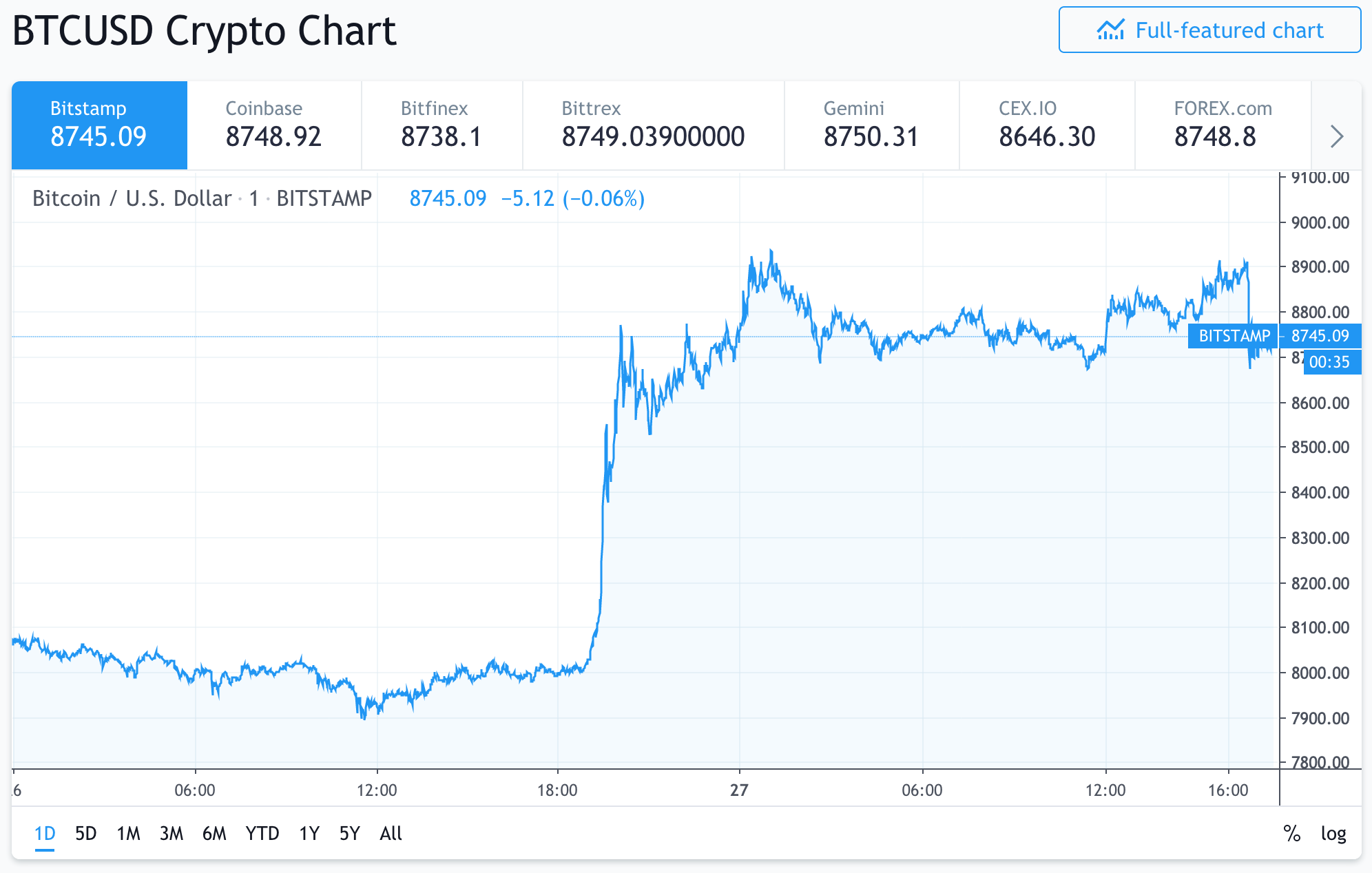 The BTC market capitalization is at around $155 billion, which is more than the total cryptocurrency market cap was, less than three months ago.
Today the total market capitalization is sitting slightly above $271 billion, which is still $22 billion more than 24 hours ago.
BTC's dominance is sitting at 57.2%, slightly down since yesterday, with 0.3%.
While the crypto community is on pins and needles, to see where this rally might bring us, many crypto analysts take to Twitter to suggest that Bitcoin could indeed continue this rally all the way up to the $10,000 price level.
Crypto trader Josh Rager suggests that Bitcoin will soon say hello to price targets well above the $9,000 price level.
'Bitcoin could cool off, run sideways but IMO will continue to move up over $9k', he tweeted.
Another well-known crypto analyst, going by the Twitter handle, CryptoFibonacci, came forward and said that Bitcoin is massively bullish right now and that there is no need to fight it or try to predict a pullback.
Although, the long term crypto trader expects a retest of the moving averages, he does see Bitcoin moving upwards toward $9,500.
Last but not least, Bitcoin and cryptocurrency analyst, who goes by the Twitter handle, Crypto Rand, stated a week ago already that he expected for the world's number one cryptocurrency to break to the upside and potentially hit the $10,000 level.
The crypto analyst suggested to his 213K Twitter followers, that Bitcoin will trade within a triangle for the next few weeks, and then make an upwards break, all the way to the $10,000 price mark.
So, there you have it. Bitcoin might be courting the $10,000 price level any time soon now. Will it be this week? Let us know what you think in the poll below.