After Bitcoin briefly touched on $9,000 today, we saw a fairly sudden crash in prices that permeated just about the whole market. Bitcoin dropped to $8,000 very swiftly, and most alts saw similar downside. All is not lost however, as some on twitter are pointing out, as prices generally held above the larger ascending trendline that most coins are climbing as of the last couple weeks. The market as a whole lost over $25 billion in just a matter of hours.
Here we can see the latest chart for Bitcoin on the 4 hour. Though the price broke the 50 MA, it did not break the larger trendline/psychological support found at $8,000.
Looking at the whole market, we can see that in just about 5 hours we lost over $25 billion, dropping from over $286 billion and now at about $260 billion.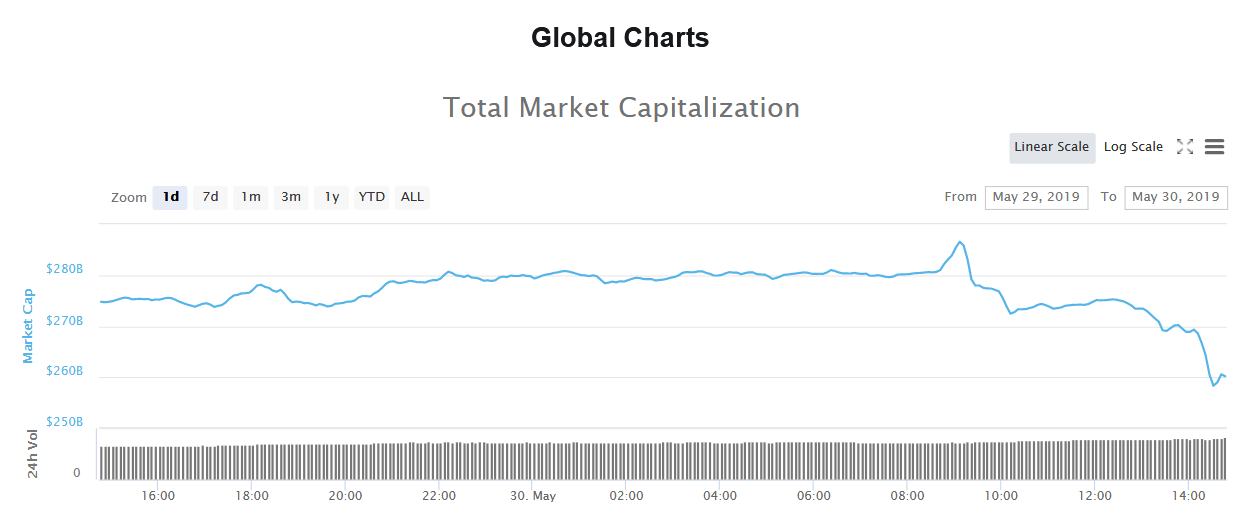 Many on twitter are commenting on today's price movements, and generally the sentiment is that this dip isn't a huge problem, even a healthy correction on the recent action:
Meanwhile others couldn't help but joke about how fast things can change in this market:
As of this writing, it looks like the market has found the bottom of this dip and most prices are beginning to rise again. If so, then the larger bull trend is still well intact. What will the coming hours bring? Can Bitcoin get back to $9K today? Stick with Chepicap for all updates!