As Chepicap previously reported, one of the 'hot crypto' stories of the past 24 hours was Ripple's announcement of a partnership with MoneyGram, and although Moneygram saw a huge price jump on the news, XRP, one day later, has not much to show for price-wise.
With the partnership now officially confirmed, XRP was up again for the 24h period, but only by 8% or so, while its partner Moneygram, one of the world's largest money transfer companies, surged with a 176% gain on its shares following the news.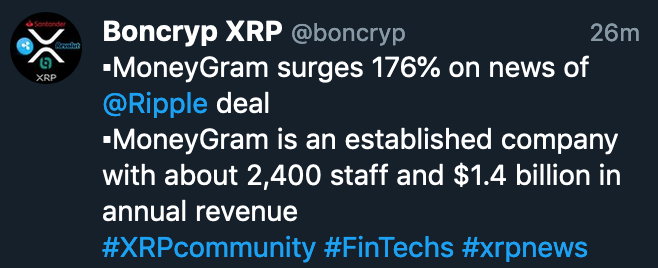 Despite Moneygram seeing a massive spike in price, the news didn't do much for Ripple's XRP.
On the contrary, from $0.425 yesterday, XRP jumped to about the $0.46 price level, seeing a rise of about 8%, only to be trading at $0.430 again just one day later, showing a 24 hours loss of 2.46%.
Pretty much annihilating the 8% gain on the day. Ouch!

The lack of an XRP pump has puzzled many of the XRP investors, however, one crypto trader and investor, going by the Twitter handle, Credible Crypto, said that this doesn't mean XRP is bearish.
In his tweet he explains that XRP has been expecting further consolidation, and as his chart shows us, more investors pain can be expected before the third most popular cryptocurrency shows any bullish upticks.
However, many in the crypto community are not as positive about XRP's stagnant behavior, and have one question mainly: Why doesn't XRP pump?