House Releases Mark Zuckerberg's Libra Testimony
That's somewhat remarkable, given that Zuckerberg has been summoned to Capitol Hill to defend his company's decision to launch its own blockchain-based cryptocurrency, the once-promising, now-floundering Libra.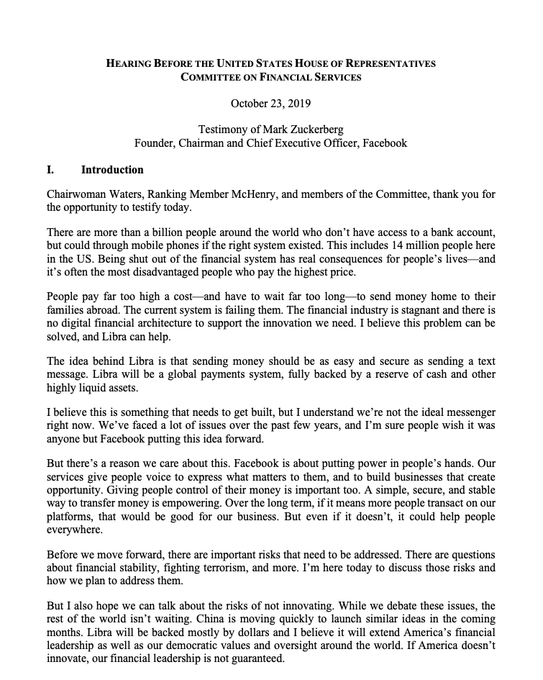 Consequently, Zuckerberg wants to avoid loaded terms like "bitcoin" and "cryptocurrency" – the same buzzwords Facebook likely used to woo fellow tech companies to its Libra Association, which is already hemorrhaging members at an alarming rate.
Facebook CEO Eschews Bitcoin Buzzword in Favor of 'Digital Payments'
Instead, he'll couch his defense of Libra in less-threatening language, using terminology like "as easy…as sending a text message" and "digital payments."
"The idea behind Libra is that sending money should be as easy and secure as sending a text message. Libra will be a global payments system, fully backed by a reserve of cash and other highly liquid assets."
Using vague terminology like "digital payments" and "this" to avoid using the c-word or b-word, Zuckerberg will also warn that cryptocurrencies like Libra are the future of finance and that if the United States fails to remain on the cutting edge of blockchain development, one of its geopolitical rivals will take the lead.
"A digital payments system is going to be important in the future. If America doesn't lead on this, others will. Foreign companies or countries may act without the same regulatory oversight or commitment to transparency that we have."