Today, we will be inspecting some of the past price trends of
DOGE
and other market factors in order to project a Dogecoin price prediction for January 2020.
Dogecoin Overview
Dogecoin (DOGE) is a
Litecoin
fork
that has been around for 7 years now in the crypto space. DOGE got the nickname of meme-coin, because it featured as its symbol the Shiba Inu dog, which attained popularity from memes.
While the coin is not among the top 10 crypto projects, it has still managed to survive to this day and is currently within the top 40 coins.
DOGE currently ranks 32
nd
according to a market capitalization of $294,540,445 and has an overall ROI of 328.68%. The coin traded a volume of $104,976,490 in the last 24 hours. There are 122.936.130.006 coins in circulation at the moment. The highest value recorded in the past 7 days was $0.002570, while the lowest was recorded at $0.002293.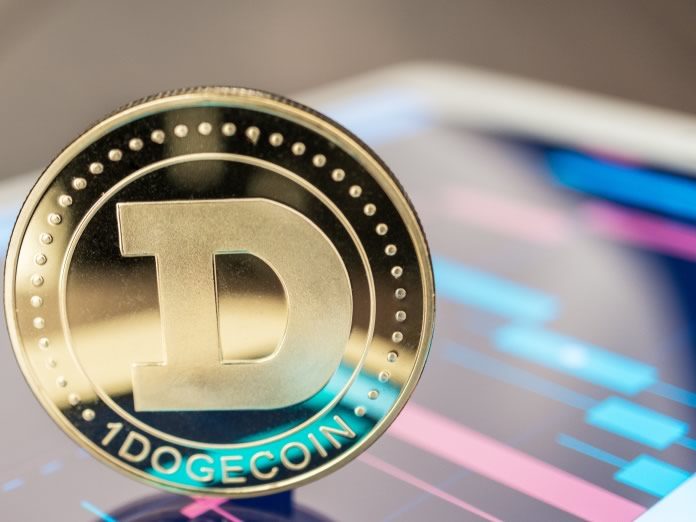 Source: Bitcoinregs
Dogecoin Price Prediction: Analysis
As in the last part of December, Dogecoin was trading at the lower end of $0.0020; in January it appears that things are slightly improving for the meme coin.
On January 2
nd
, DOGE reached the $0.0021 resistance level and continued to test that level on the following day. On January the 3
rd
, Dogecoin closed the day at $ 0,002145.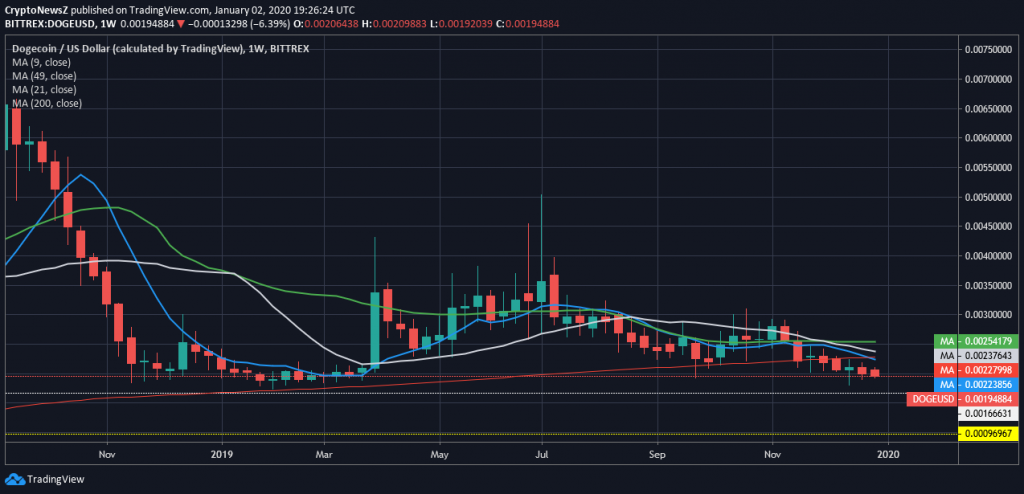 Source: Cyrptonewz
Starting with January the 4
th
, the coin went through some impressive short-term surges, reaching a peak of $0,002564. The coin managed to test high values between $0.0024 and $0.0025 up until January 9
th
when it corrected its price to $0,002291.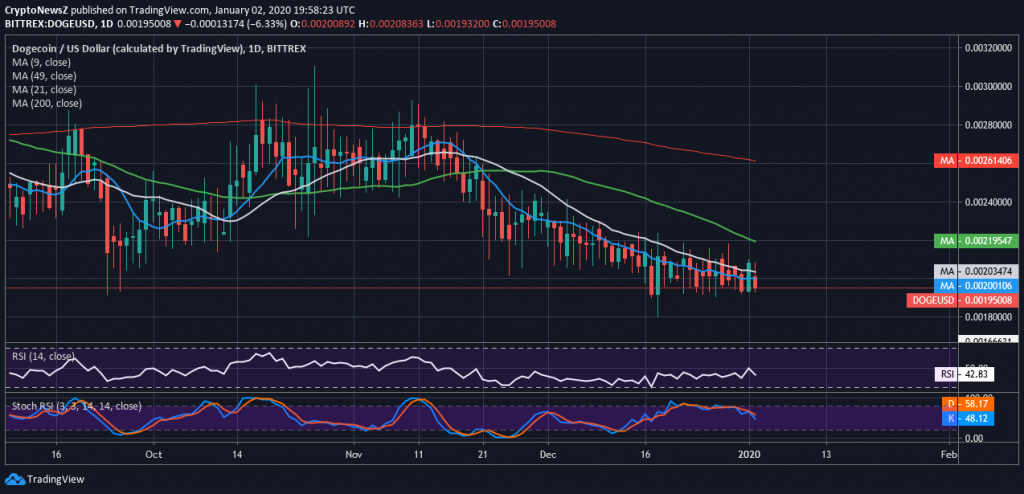 Source: Cyrptonewz
The following days, the values were generally between $0.0022 and $0.0023, until on January 12
th
and 13
th
, Doge once again started testing the $0.0024 resistance level.
The coin continued trading around the $0.0023 mark, with two major surges to $0.0025 on January 14
th
and January 15
th
. On January 15
th
, the coin opened at a price of $0,002468 and closed at $0,002369. On January 16
th
, DOGE once again saw a correction in price, opening at $0,002372, with a closing price of $0,002345.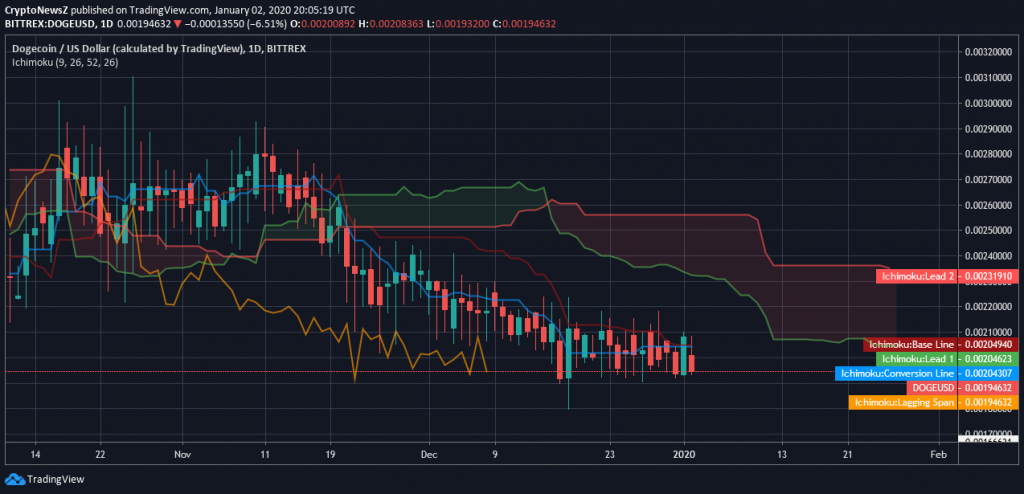 Source: Cyrptonewz
Dogecoin is currently trading at $0.002395, with a decrease of -5.97% in the past 24 hours. The coin has managed to increase in value since its December prices. If the crypto will succeed in getting past the $0.0024 resistance level, then DOGE might continue its bullish momentum.
The pivot, resistance, and support levels as calculated by WalletInvestor are:
Resistance Level (R3): 0.00251
Resistance Level (R2): 0.00245
Resistance Level (R1): 0.00240
Pivot Point: 0.00235
Support Level (S1): 0.00229
Support Level (S2): 0.00224
Support Level (S3): 0.00219
Developments
DOGE has not made any notable developments in the past five years, partially because it does not have a stable development team. Its founder left the Dogecoin team in 2015, as he was against the coin being used as a quick way to profit off others through pump and dump schemes.
Another problem with DOGE that has been pointed out on multiple occasions is the fact that there is no maximum supply. This means that unlike Bitcoin or other cryptos with capped supplies, Dogecoin has an inflationary nature. Currencies based on a deflationary model are expected to increase in value, as there will be a limited amount of coins available. If coins are to be produced without any limits, then Dogecoin might greatly depreciate.
Dogecoin Price Prediction: Market Opinion for January 2020
Several websites from the crypto space have projected their Dogecoin price prediction and gave their estimates of the value it could reach this January. In order to give a better insight into the market sentiment towards DOGE and its development, we have decided to feature some of these forecasts:
Digitalcoinprice
Digitalcoinprice
estimated that DOGE would be trading in January at a price of $0.00569473, which would mean an increase of 138.67%.
Coinpredictor
The
Coinpredictor
portal has projected that the Dogecoin price will be close to $0.002737 by the end of January 2020.
Altcoinforecast
The prediction of
Altcoinforecast
speculates that on January 31th, Dogecoin will be trading hands at $0.0032.
Cryptoground
Cryptoground
estimates that in one day, the value of Dogecoin will be at $0.0024, which would mean an increase of 2.41%, and in one week, it would be around $0.0025, which would mean an increase of 5.09%.
Bitverzo
Bitverzo
forecasted that on January 31, Dogecoin would have an average price of $0.000294, with a minimum of $0.002638 and a maximum value of $0.003534.
WalletInvestor
WalletInvestor
made Dogecoin predictions for several days of the month of January, along with the minimum and maximum values.
| | | | |
| --- | --- | --- | --- |
| Date | Price | Min Price | Max Price |
| 2020-01-20 | 0.00250 | 0.00241 | 0.00260 |
| 2020-01-21 | 0.00249 | 0.00239 | 0.00260 |
| 2020-01-22 | 0.00250 | 0.00239 | 0.00260 |
| 2020-01-23 | 0.00245 | 0.00234 | 0.00255 |
| 2020-01-24 | 0.00246 | 0.00235 | 0.00256 |
| 2020-01-25 | 0.00253 | 0.00242 | 0.00264 |
| 2020-01-26 | 0.00256 | 0.00245 | 0.00267 |
| 2020-01-27 | 0.00259 | 0.00250 | 0.00271 |
Dogecoin Price Prediction: Verdict
With this, we conclude our Dogecoin price prediction for January 2020. Be careful when trading, as all price predictions, no matter how well researched and analyzed, are at the end of the day just speculations.
Featured image: medium.com