Trading bots have completely changed the playing field in the realm of crypto trading. In this article, U.Today will guide you through the murky world of automated trading and introduce the best cryptocurrency trading bots that are currently available on the market.
Automated trading, explained
Its been
more than 11 years
since Satoshi Nakamoto published the groundbreaking Bitcoin white paper. The industry has matured a lot, and
enormous price moves
are becoming rare. Hence, more and more flock to trading (instead of simply holding) to get their kicks.
Algorithmic trading is nothing new. Computerization of the order flow made its debut as early as in the 70s when the technology was still nascent. It quickly became an integral part of traditional markets and eventually made its way to cryptocurrencies as they were becoming more popular.
What is a crypto trading bot?
Trading bot is a piece of software, which is used for catching all market trends instead of you based on a set of technical indicators. It can make profitable trades even if you stay asleep.
The impact of bots on the crypto market cannot be overestimated. The Wall Street Journal discovered that trading bots are even used to
manipulate prices
in the cryptocurrency market.
The lion's share of bots allows trading both Bitcoin and a plethora of altcoins. The altcoin market
remains more volatile
. This creates more opportunities for risk-loving traders.
Of course, it's not advisable to simply rely on a bot for making a successful trade -- they do work, but the results greatly depend on particular trading strategies that are actually designed by humans. However, by eliminating emotions from trading, robots are able to maximize profits while avoiding potentially big losses.
Paid vs. free cryptocurrency trading bots
There is no such thing as a free lunch, but there is indeed such a thing as a free trading bot, but many people are still skeptical about such offers.
Indeed, whenever you see a free crypto trading bot, it is either an outright scam with hidden fees or something with very limited functionality. There are also some legit free trading bots, but they usually require good
programming skills
. Hence, if you are a complete beginner, it is worth giving a try to popular bots that offer paid subscriptions (you are usually allowed to test them out before making a payment).
Making your own bitcoin trading bot
There is a popular saying, which was coined by Andreas Antonopolous, -- "not your keys, not your Bitcoin." One of the advantages of developing your own crypto bot for trading is the ability to control your private keys.
On top of that, you can add any features that suit your needs, which increases your chances of making a successful trade.
The obvious impediment is the necessity to know programming languages The easiest way around is to set up your own Bitcoin trading bot for crypto is by using PineScript in your TradingView account. You can set up your own bot for quick alerts in less than ten minutes.
Top 5 crypto trading bots in 2020
Meet the best of the best. These five bots made a cut to this year's top five best cryptocurrency bots. You will find out what makes them stand out.
DAXrobot
Although DAXrobot is free, one has to deposit a minimum amount of $250 in order to get access to the platform's juiciest features. DAXrobot accepts both cryptocurrency and credit card deposits.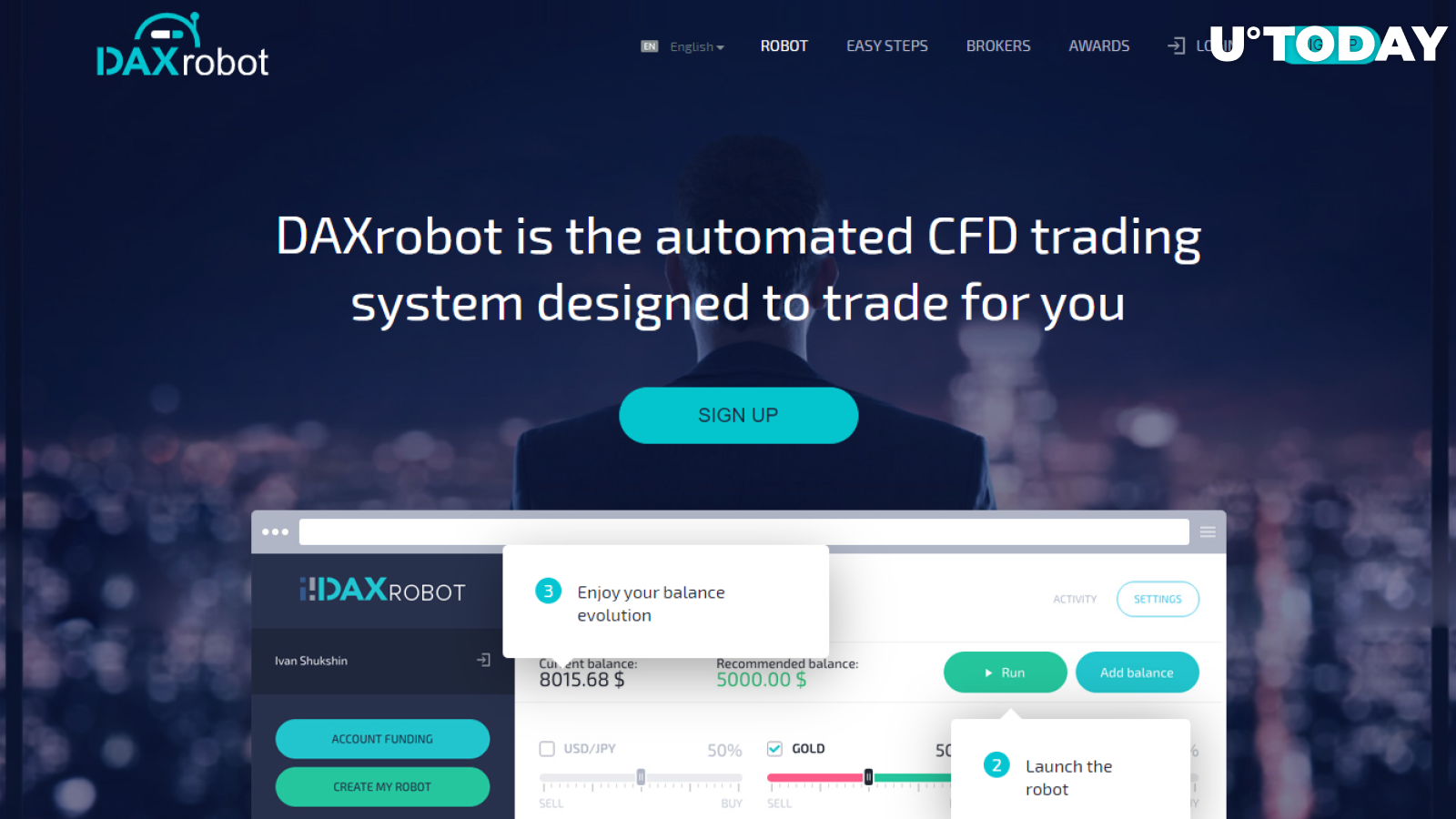 image by daxrobot.com
LiveTrader
The obvious downside is that this platform doesn't support as many exchanges as more established bots that have been around for years.
LiveTrader will charge you $19 per month for 20 bots and one turnkey strategy. Trading pros will have to pay $99 for 1,000 bots and ten strategies.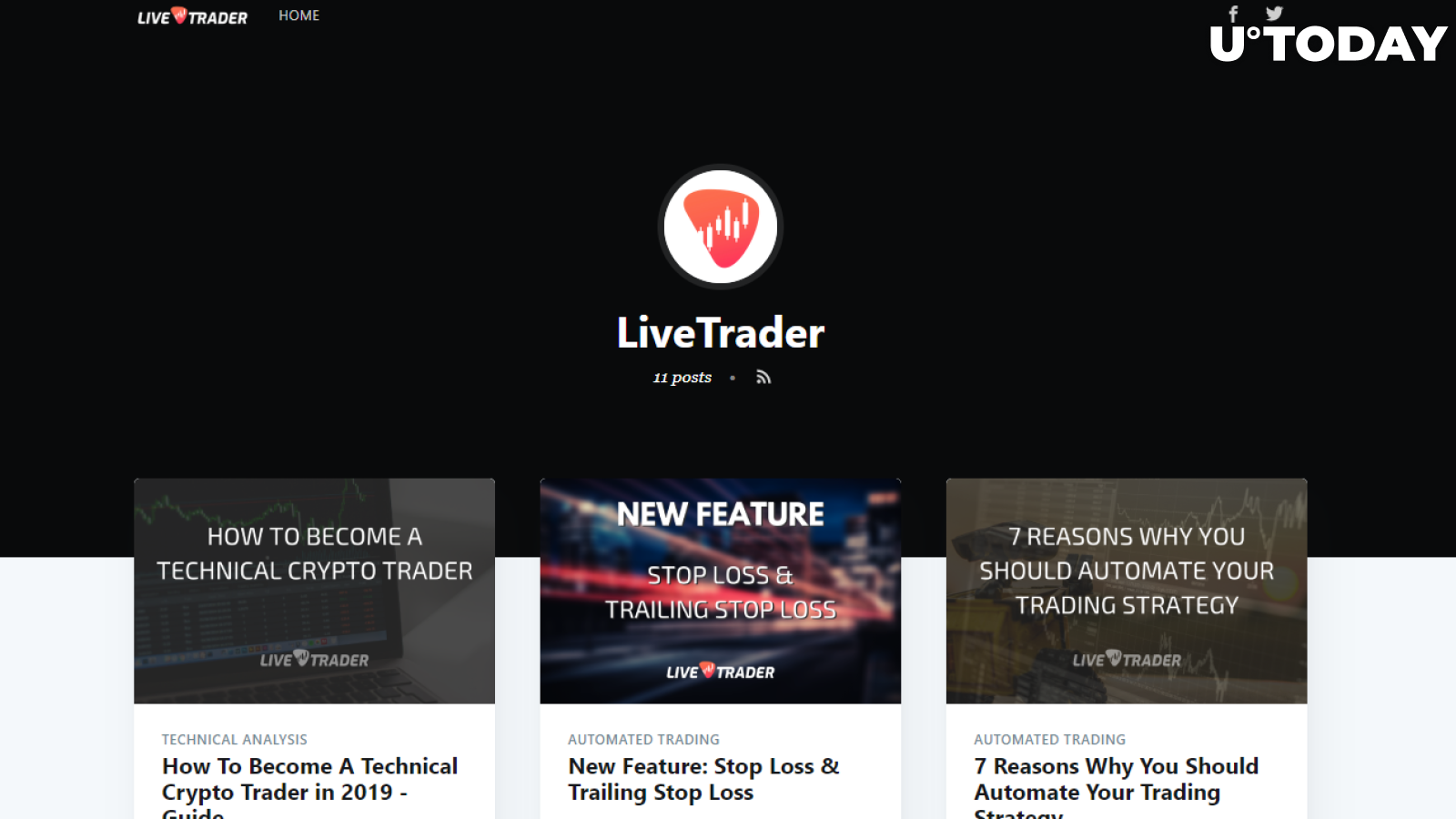 image by livetrader.io
Margin
Margin
is better known within the crypto trading industry as leonArdo, the German cryptocurrency trading bot with a stellar reputation. Margin comes with an updated interface along with a slew of new features. However, the team behind the project remains the same.
It has a drag-and-drop visual editor that makes it much easier for rookies to grapple with automated trading. The bots that are deployed by Margin make use of a wide array of technical indicators such as Bollinger Bands (BBs) and the EMA crossover.
Margin has recently debuted a new tool for writing strategies in Python. This is a very useful tool for creating your own bots that are tailored for the current market situation and sharing them with the cryptocurrency community. Here's an in-depth video tutorial on
how to write a bot in Python with Margin
.
Licenses start at $129 and end up at a whopping $2,999 for professional traders who have account balances of over 100K USD. However, it is important to note that traders pay for a lifetime license, meaning that they will be charged only once.
You can get a 10 percent discount by using the marginutoday promo code.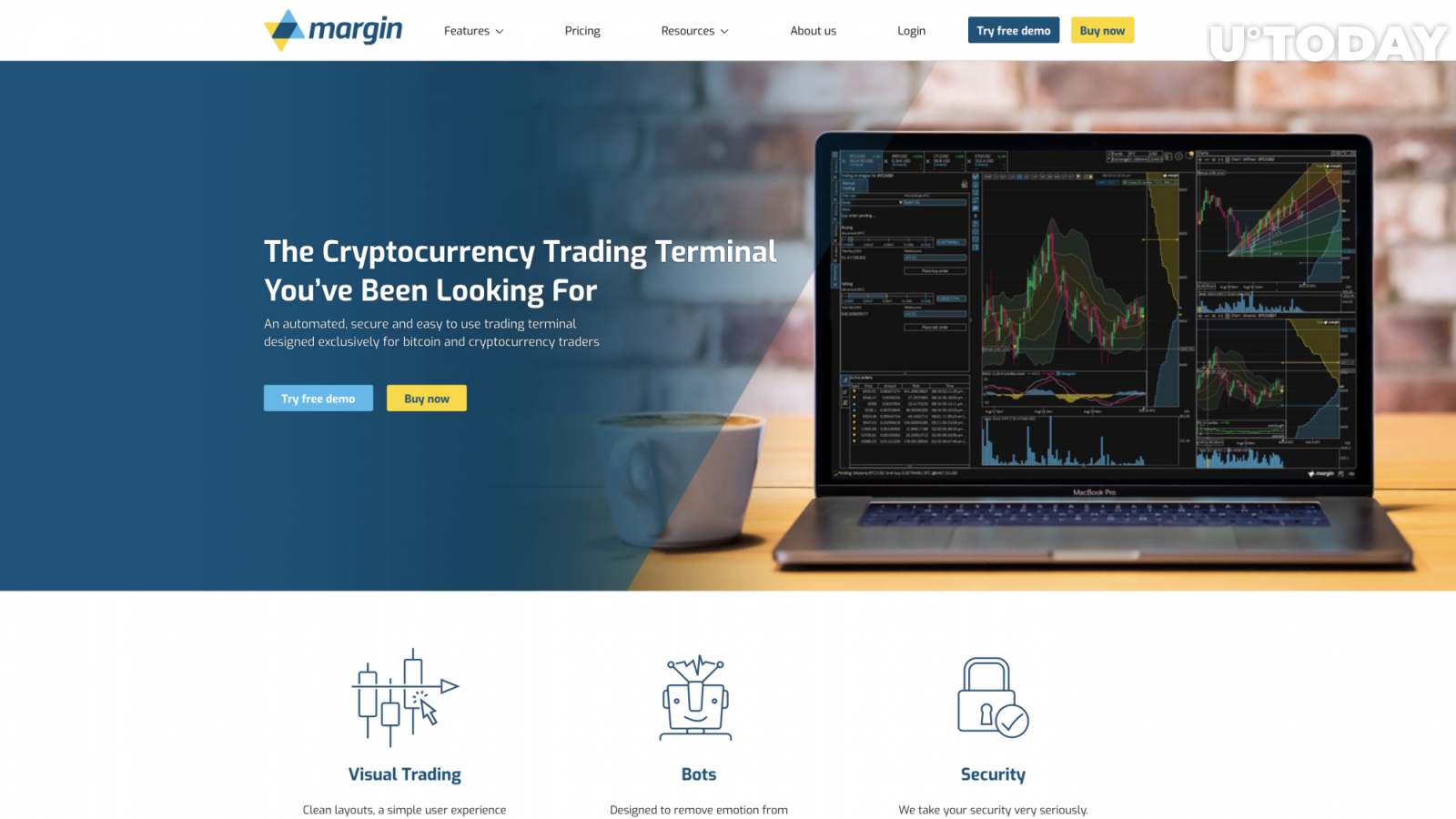 Image by https://margin.io
Zignaly
Zignaly is a cool and sleek bot
that supports the Binance exchange, but they soon plan to add KuCoin as well as BitMEX and Bybit for trading cryptocurrency derivatives. This bot is cloud-based, which eliminated the need for downloading software.
It recently debuted the copy trading feature, which allows users to copy the positions of other successful traders for diversification purposes. You don't have to do anything -- simply allocate your money and that's it. Zignaly will adjust all necessary settings instead of you.
This bot makes it very easy for the end-user to invest his or her money since the copy trader (master) is the one who's responsible for determining position sizing, managing risks, etc.
Presently, Zignaly boasts six copy trading providers, but the platform plans to expand the list in the future.
Zignaly is transparent about the team behind the project, which might also be its additional selling point for those who are on the fence. For now, their 'Beta Plan', which unlimited exchanges and coin pairs, is priced at $15,99 per month. There is also a free 30-day trial.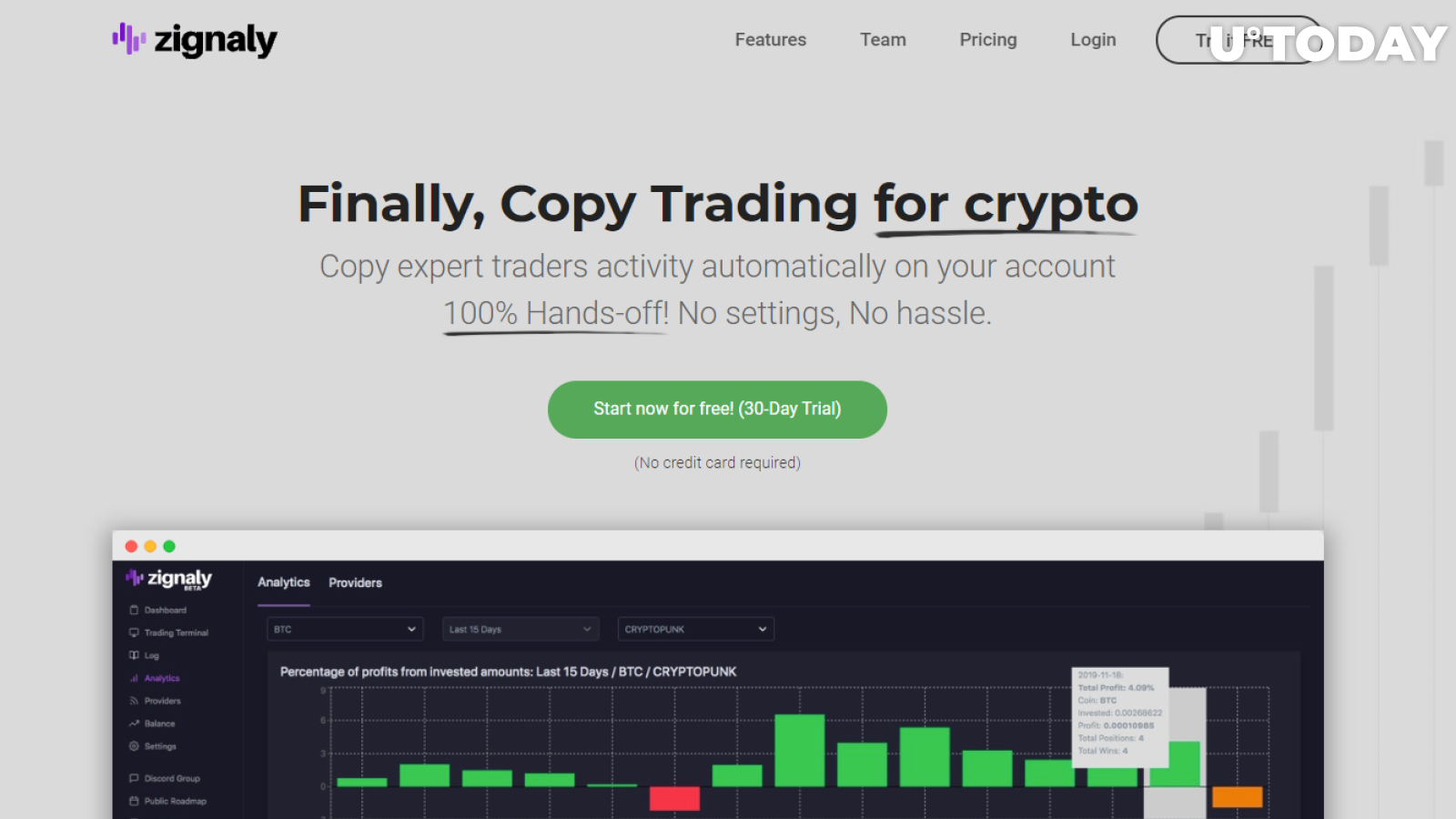 image by zignaly.com
Kryll
Kryll
is a feature-rich trading automated trading platform that helps traders deal with a high level of volatility in the cryptocurrency market. It lets you swap your coins when they make wild price moves, thus eliminating the need to log in on different exchanges.
This platform has a drag-and-drop editor with multiple trading indicators (including RSI, MACD, and MA) that allows users to hone their trading style. Traders can go to Kryll's market place to engage with the community and buy turnkey strategies from high-profile traders.
Another advantage of this trading bot is that it is cloud-based, which means that there is no need to install any software on your computer.
Kryll offers a pay-per-use model for its clients for live trading. Users are billed in KRL tokens.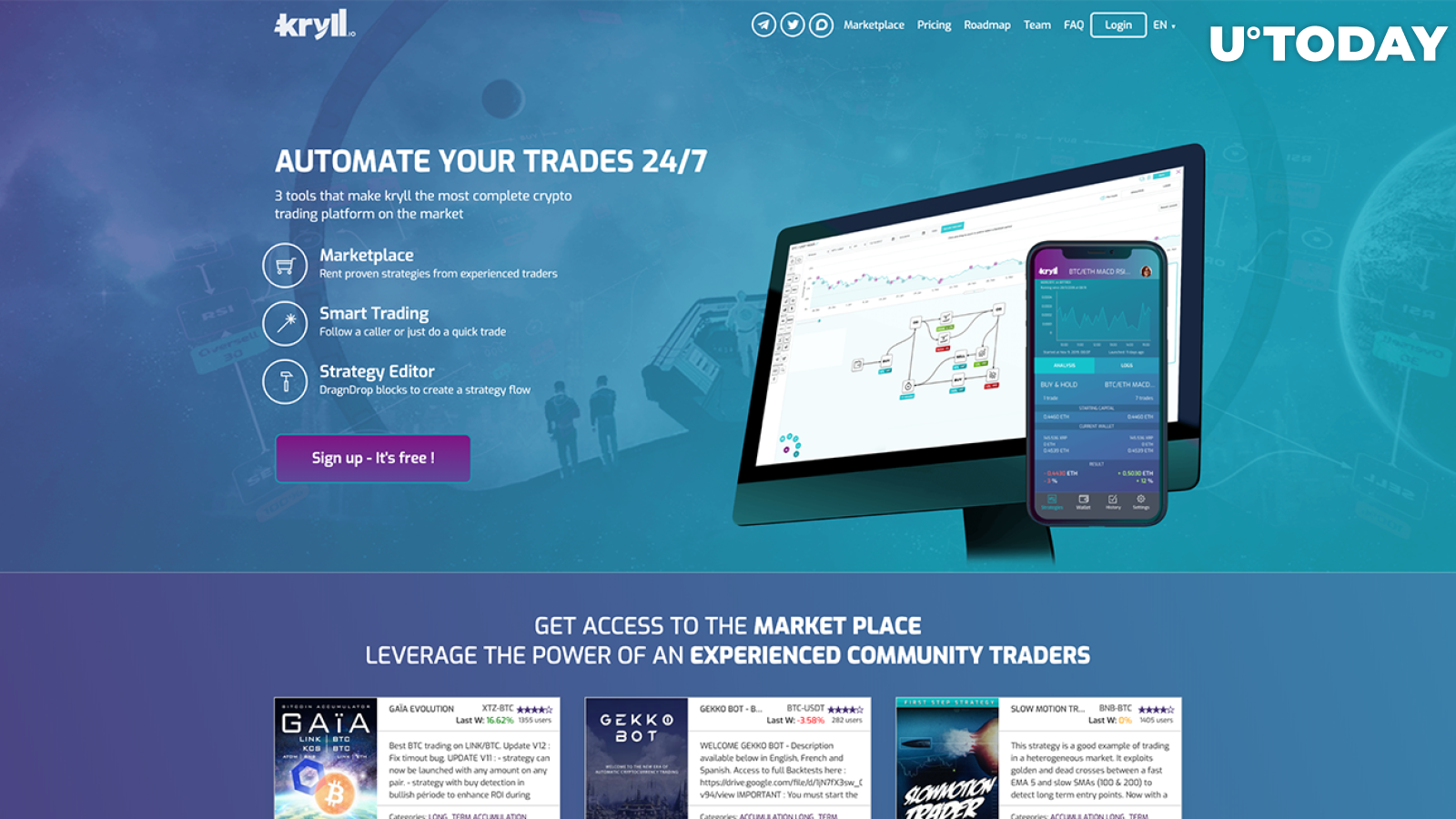 image by kryll.io
Top 20 Bitcoin trading bots in 2020
There is no shortage of Bitcoin trading bots on the maturing cryptocurrency market that can suit both novice and seasoned traders.
DAXrobot
DAXrobot stands out among the rest of trading bots because of the high returns it offers to its customers. The robot is free, but you have to make a deposit of $250 to start trading. There are deposit/withdrawal options in Bitcoin and popular altcoins.
LiveTrader
LiveTrader lets its users automate their trading strategies on the biggest cryptocurrency exchanges, including Binance and Kraken, with fully customizable bots. After a week-long trial, you will have to shell out at least $15 in order to continue using the platform's key features that are suitable for both conservative and risky trading styles.
Margin
Margin (formerly known as leonArdo) is a fully automated platform for trading cryptocurrencies. It is easily recognizable because of its good GUI and a visual editor.
There is a ping pong bot for simply setting a static buy and sell price and a margin maker for advanced strategies.
Zignaly
Zignaly allows you to place your positions directly to an exchange without logging in. This Spanish bot has a cloud-based interface, which means that there is no need to update your software. With a slew of top-notch features, such as trailing stop loss, it's a must-have tool for advanced traders.
Kryll
Kryll is a cloud-based trading platform that uses a pay-per-use model instead of requiring traders to purchase monthly or yearly subscriptions. Users can create their own strategies with the help of an intuitive editor and later backtest them for free.
The platform offers access to a marketplace where users can rent out strategies from other experienced traders.
3Commas
New traders can seamlessly create a new bot with Toronto-based 3Commas because of its easy-to-use GUI. Its SmartTrade terminal allows setting up bots with various trading parameters. The cheapest membership package costs $29 per month.
Autonio
Autonio can pique the interest of traders with a few buzzwords. It stands out from the crowd by being the very first decentralized Bitcoin trading bot that is also powered by AI. However, Autonio can still be a good option for absolute beginners with no experience in coding.
AutoView
AutoView functions as a simple browser extension, which can automatically perform trades on supported exchanges based on TradingView alerts.
The beginner-friendly bot is available for free on a limited list of exchanges, including BitMEX, Deribit, Gemini, and some other exchanges. Full access to all trading platforms will set you back $269.99.
BitcoinBot
As the name suggests this cryptocurrency trading bot only offers automated trading in Bitcoin, but it accepts deposits in numerous digital assets. It also allows setting up an automated trading gateway for your business.
BTCrobot
BTCrobot is one of the longest-running Bitcoin trading bots out there with its website being up and running for six years. This bot managed to survive despite its somehow shady reputation, which stems from some misleading claims on BTCrobot's website.
CryptoHopper
CryptoHopper is yet another cloud-based robot on U.Today's list with high functionality. Back in October, the company introduced an arbitrage bot that allows making money off price spreads on different exchanges.
CryptoTrader
CryptoTrader is one of the old-timers on the market that was around even during the existence of the now-defunct Mt. Gox exchange. This open-source crypto trading bot is an affordable Bitcoin trading bot that features a slew of strategies for different for both conservative and risky trading styles.
It should be noted that traders should not fall victim to a similarly-looking scam with a similar domain. Hence, you have to make sure to type cryptotrader.org in the address bar.
DeepTradeBot
DeepTradeBot is an AI-powered trading bot that merges the benefits of machine learning and neural networks. Its functionality can be integrated into the trading engines of the Bittrex, EXMO, Kraken, Binance, Bitfinex and Huobi crypto exchange platforms. DeepTradeBot is designed with an intuitive UI, so it's also suitable for newbies.
Trading operations with Bitcoin (BTC), Ethereum (ETH), Litecoin (LTC) and Dogecoin (DOGE) are available with DeepTradeBot. Its performance uses four main methodics: high frequency trading, arbitrage trading, algorithmic trading based on technical indicators and trading based on fundamental analysis. They offer four plans, one free and three paid (10-45 USD).
Gimmer
Gimmer allows creating one bot without charging anything. Those who want to more bots at their disposal will have to buy them with the platform's native Gimmer (GMR) tokens. You can also take part in Gimmer's bot renting program for renting strategies created by other traders.
HaasOnline
One of the most reputable bots on the market was founded by Dutch programmer Stephan de Haas back in 2014. That said, it remains relatively unknown for many cryptocurrency traders since the company primarily targets professionals with its suite of advanced features.
HodlBot
HodlBot offers a set of features that are similar to those of Shrimpy with custom portfolios and market indexing. You can use HodlBot for free if the value of your account doesn't surpass $500. For trading bigger sums, you will have to form out ten dollars every month after a week-long trial.
ProfitTrailer
ProfitTrailer serves as a top-of-the-mind solution for rookie traders given that it already comes with more than 20 turnkey trading strategies. Based on the number of necessary features, ProfitTrailer users can choose among four types of accounts.
Shrimpy
Shrimpy is a free cryptocurrency trading bot whose users can backtest their strategies before diving into real automatic trading. The peculiar thing about Shrimpy is that it can rebalance the crypto portfolios of its traders in order to make them more efficient and increase profits. To top that off, there is also an exclusive indexing tool.
SuperOrder
SuperOrder is a Ukrainian cryptocurrency trading bot that offers users advanced order types. The platform allows connecting a multitude of exchanges for trading in one single place.
Zenbot
Zenbot is a free cryptocurrency trading bot with multiple supported cryptocurrencies. The availability of backtesting and paper testing makes it a perfect fit for inexperienced users who might want to get a taste of trading before spending real coins. The bot is capable of executing up to three trades in one single day.
Best Bitcoin trading bots 2020
Here's a table, which includes the basic features as well as the advantages and disadvantages of all trading bots on the list. This will come in handy for those traders who still cannot pick the right one.
Trading Bot
Beginner-level features
Price for the cheapest plan
Pros and cons
DAXrobot
No fees
$22

+ Pre-defined levels of income

- Shady reputation

LiveTrader
20 bots
$19

+ A lot of available bots

+ Backtesting

- Little information about the team

Margin
Unlimited bots on one exchange
$129 (lifetime license)

+ Effective trading strategies

+ Visual editor

Zignaly
Unlimited exchanges
$15.99

+ A multitude of different trading signals

- Not beginner-friendly

Kryll
A drag-and-drop strategy editor
Only charges for live trading (0.0333 percent of the invested amount)

+ SWAP feature
+ Kryll Marketplace
- Few available exchanges
Those who are new to automated trading might consider choosing the bot with the most convenient interface, which will make it easy to start trading. The absence of fees might be a selling point for some traders.
Meanwhile, skilled traders might want a greater choice of trading bots and cryptocurrency exchanges that will allow them to generate maximum profits even with the cheapest package.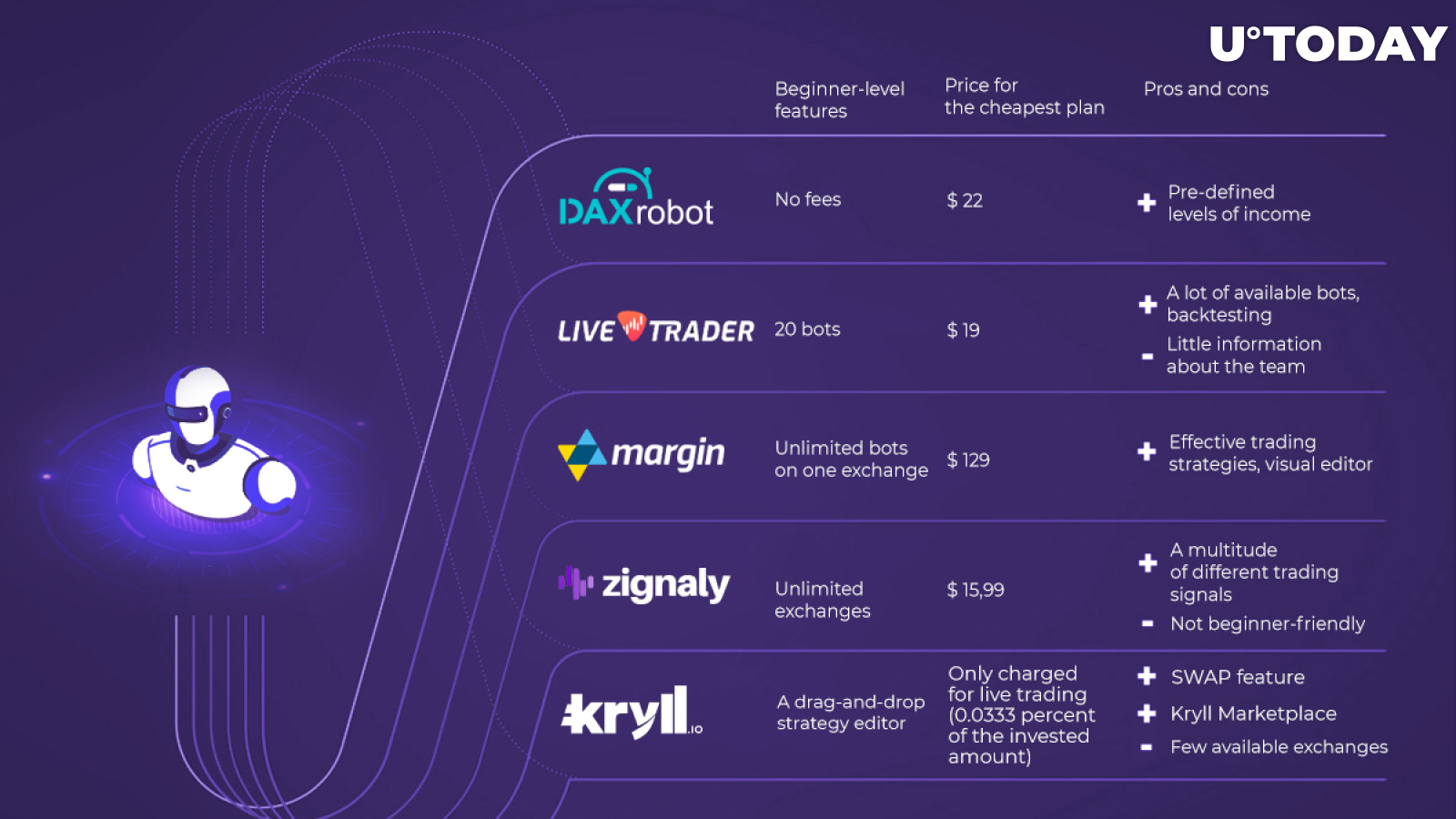 Top 5 Bitcoin Trading Bots Image by https://U.Today
Best bitcoin trading bots 2019
Every year, we publish the lists of trading bots that are worthy of your attention. The following list features U.Today's picks in 2019.
Haasbot;
DAXrobot;
Gimmer
CryptoTrader;
Kryll;
Gunbot.
Best bitcoin trading bots 2018
These are the trading bots that made it to U.Today's list in 2018.
ProfitTrailer;
GunBot;
3Commas;
AutoView;
CryptoTrader.
Trading bot scams
Not all trading bots can give you amazing profits. Some of them want to steal your money while promising crypto riches. These are the names of borderline scams that you should avoid under any circumstances.
BinBot Pro
BinBot Pro is a free piece of software for automated cryptocurrency trading. However, potential traders should be very cautious when it comes to this platform since it seems like a textbook example of a scam.
There is zero legit information about who stands behind the platform that boasts some shady awards. Moreover, while the software itself is free, BitBot Pro will ask you to deposit $250 to one of their brokers before allowing them to make any trades.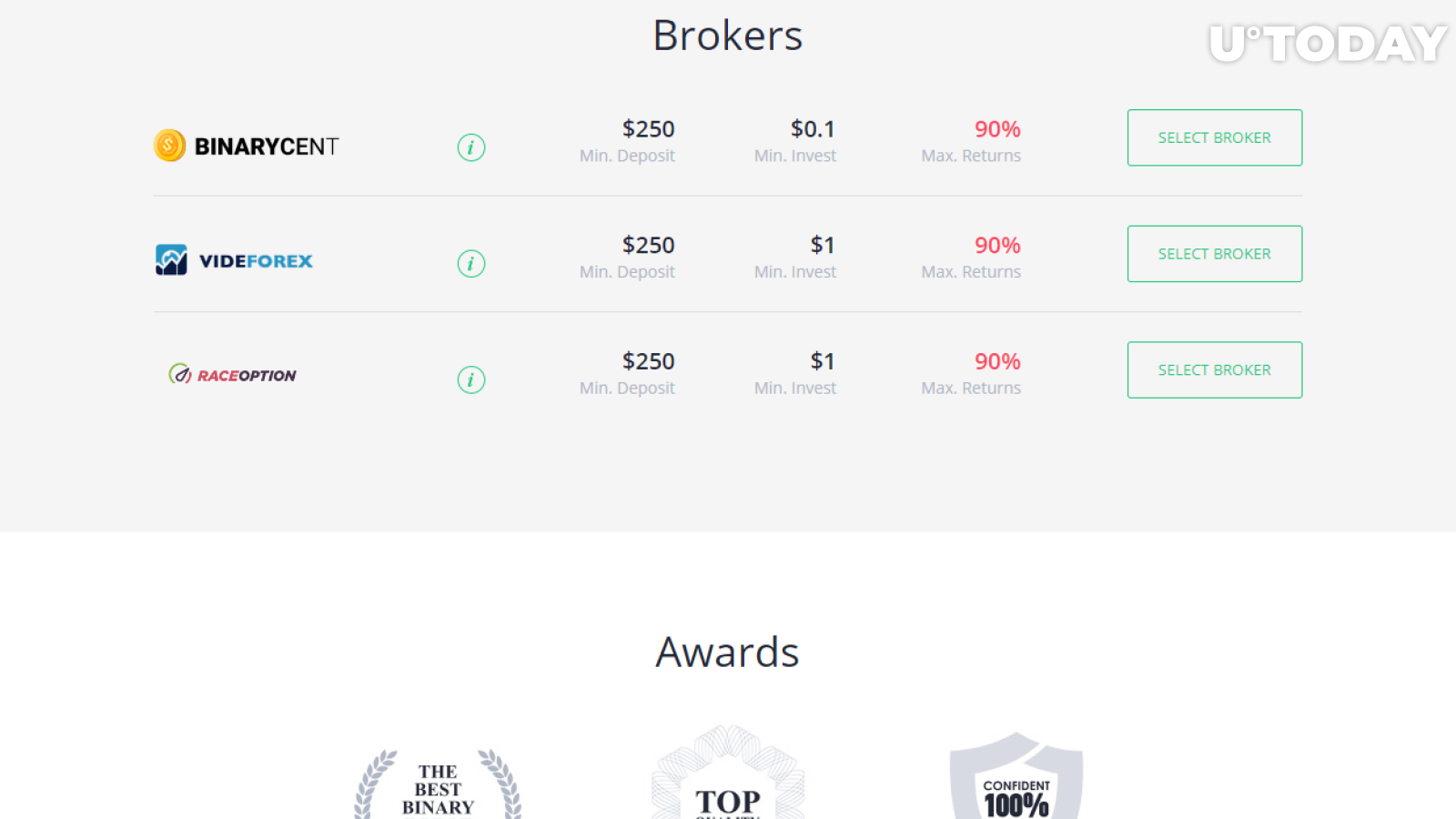 image by binbotpro.com
CWEbot (CryptoWorldEvolution)
The anonymous creators of this bot promise easy money for anyone who's willing to buy their software. They are two ridiculously expensive subscriptions ($500 and $2,500 for the pro version). A closer look at this bot exposes it as a
typical Ponzi scheme
.
NB! If you happen to have more evidence on the shady dealings of these platforms, feel free to contact us at editor@u.today.
Conclusion
With the plethora of products that saturated the automated trading market, it is challenging to pick up the best crypto trading bot. The Bitcoin trading bot of your choice depends on your trading experience, programming skills, and, of course, the size of your pocket.
Trading bots like Zignaly or Margin will probably make your life much easier, but this convenience certainly comes at a price. Meanwhile, cheaper or completely free platforms have their own caveats.
Meanwhile, you can avoid third parties completely by creating your own best free crypto trading bot, but this is a viable option only for seasoned traders who have a great command of numerous programming languages.
Whatever cryptocurrency trading bot you choose, the rule of thumb is to steer clear from
obvious scams
that will burn your money in the blink of an eye. Remember that not a single platform can promise you a certain level of profitability given how unpredictable the crypto market is.