KickRef Has Got 20k+ Users in First Two Days, 40k Users in a Week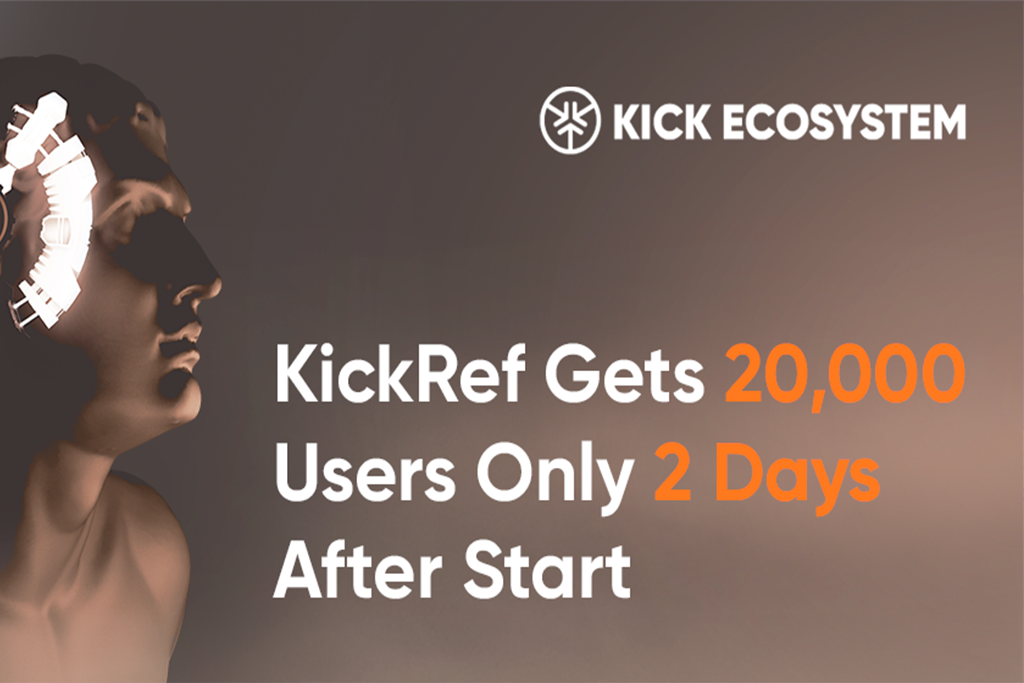 KickRef,
first really multi-level referral program on the crypto market, has reached over 20 000 users just in 2 days after its start on September 28. After a week since its launch, the number has surpassed the 38 000 registrations mostly coming from USA, Russia and Turkey.
Developed by Kick Ecosystem team, 10-level KickRef program allows to build up your own multi-level network that benefits you and all the people you invite to join. At that, no upfront contributions are needed. KickRef website states:
Singup Here
"These people can be your friends, family members or even strangers who just used your referral invitation link. They could be friends of your friends to the 10th level down the familiarity tree, but however distant they would be from you, you'll get a part of the commission they will pay to KickEX. That way, you will benefit not only from your own direct actions, but also from the actions of individuals that you referred."
KickRef
is the part of Kick Ecosystem and it is one of the key service created for
KickEX
exchange – an advanced-trading digital asset exchange with unique trading instruments such as robust customisable orders paired with order constructor. KickEX beta is going to be launched in Q4 2019 but good news for the community comes with KickRef launch.
Everybody can start earning even before the exchange run via two ways:
Early Invitation Reward,
allowing to Earn up to $3000 by referring early users to KickEX or via
Early Adopters Bonus.
The last option imposes X2 referral reward on all your early direct referrals for 1 year. KickRef also offers additional rewards that are credited immediately – 10,000 KICK tokens to every new user registered via the referral link.
If not, they still receive a welcoming bonus, but significantly less – just 1,000 KICK.
We expect that about 4% of the registered users will become active traders (we have some secret sauce how to turn non-traders into active users). For example one of our users had invited 65 people and they have generated him 1,200 additional users in the network. With average payment of $20 per user and KickEX paying 50% in commissions on average, it would be $10 per user.
So, they will generate him about $480 monthly (1200 * 4% * $10). By the time of launch of KickEX, he or she is expected to get about 10,000 users in the network, and his or her revenue accordingly might accrue up to $5,000 monthly as an average result. Yes, that's not a lot for the already rich – but in many countries it means really good money.
As an additional advantage for the users, KickRef is super accessible for the public – both for those who invite others and the future traders of KickEX exchange. Referrals are not required to immediately complete the KYC procedure so users are eligible for awards even now. The detailed explanation of procedures is available on
FAQ page
and in user dashboard.
About Kick Ecosystem
Kick Ecosystem is a one-stop solution for crypto society based on two fundamental functionalities: fundraising and exchange ecosystem that is secure, easy to use, and community driven. It aims to make cryptocurrency fundraising fair and trading clear, transparent and comprehensive for the public and securities regulators in various countries.
The ecosystem includes a
cryptocurrency exchange KickEX
along with a white label token sale solution KickDesk, a unified login system KickID, a multi-currency wallet KickWallet, a crypto payment gateway KickPay, ad network integration KickCPA, a multi-level referral network KickRef, a comprehensible app KickMobile, and a fully revamped KickICO platform, made from scratch, with an innovate auction-based fundraising model.