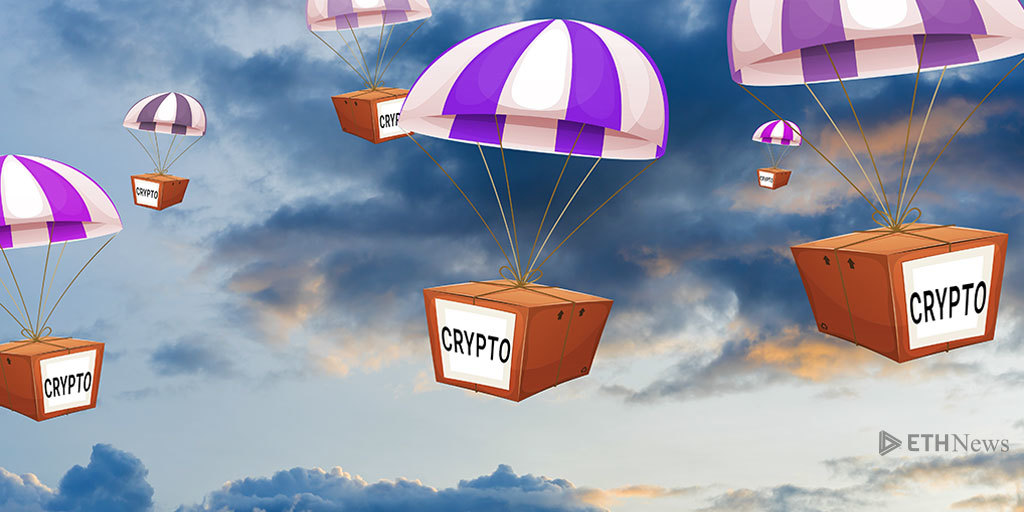 Crypto
airdrops
are the latest marketing trend in the crypto world. It enables new projects to reach their user base as well as established companies to reward and maintain the interest and activity of loyal users.
If you are looking to get some free tokens in your wallet this December, here are some of the top crypto airdrops you should check out in the last month of 2019.

Stellar Lumens
Estimated value: $25
End date: 15 December
Stellar
is a well-known project in the crypto world, with its native crypto XLM ranking 10
th
, according to a market cap of $1,173,249,039.
The coin was created to facilitate fast money transfers between banks, payment systems, and people at low prices.
You must have the Keybase app installed. Verify your identity via SMS;
The app must be installed on 3 different devices;
Your phone number must be from a country that hasn't attacked the project with fake accounts. Your phone number is accepted if you are from the following countries: Australia, Austria, Belgium, Bulgaria, Croatia, Republic of Cyprus, Czech Republic, Denmark, Estonia, Finland, France, Germany, Greece, Hungary, Ireland, Italy, Japan, Latvia, Lithuania, Luxembourg, Malta, Mexico, Netherlands, New Zealand, Poland, Portugal, Romania, Slovakia, Slovenia, Spain, Sweden, Switzerland, United Kingdom, United States.
In every crypto airdrop period, 100 million Lumens will be crypto airdropped on the 15th of each month, starting with November 15, 2019. The rewards will be divided equally among the participants.
The users that participate now will participate every month until the campaign ends. No user will receive a reward greater than $500 worth of Lumens.
Participation steps:
Download the Keybase app;
Install the Keybase application on 3 different devices;
Generate paper keys;
Prove you are not a bot by receiving an SMS through your phone number;
You will receive ~600 Lumens (XLM).
Requirements:

Civic
Estimated value: unknown
End date: 16 December
Civic
is a blockchain platform that enables users to keep their identity information secured in protected throughout any verification process.
Civic's model can be implemented to offer more affordable and secure access to identity verification through the use of blockchain technology.
By using Civic's identity verification product, background, and personal information verification checks will not have to be executed every time a new institution or service requires one. Civic already has launched its functional product to a global audience. Civic was the winner of the Best New Startup award at the 2017 edition of the K(NO)W Identity Conference.
Participation steps:
Access the official Civic Website;
Click "I'm in" and wait for a popup to appear;
Register with the required information and wait for your email to be verified;
Share your referral link to other users, and you can get up to 25,000 CVC if you are among the "Top 500 Referrers;"
The first 501 to 5,000 will receive 5,000 CVCs each;
The first 5,001 to 25,000 will receive 1,000 CVCs each;
The first 25,001 to 100,000 will receive an equal share of the total crypto airdrop.
Requirements:

ECOSC
Estimated value: $25
End date: 17 December
ECOSC
is the native token of a newly-created payment network that can be used for trading against gas and oil. The payment platform has developed two tokens based on the Ethereum standard: ECOSCU (
Utility Token
) and the ECOSC (Security Token).
ECOSC aims to be a decentralized Supply Chain Management solution which will be available worldwide.
Participation steps:
Begin a conversation with the ECOSC Telegram bot;
Like the ECOSC Facebook page;
Follow their official Twitter page;
Join the ECOSC Telegram Channel;
Enter your ERC20 wallet address and other information to the bot;
You will be rewarded with $25 worth of ECOSCU tokens;
Refer a friend and earn additional ECOSCU tokens.
Requirements:
Twitter;
Email;
Facebook;
Telegram.

Pockero Network
Estimated value: $15
End date: 17 December
Pockero Network
is a digital marketplace based on blockchain that can be used for a wide variety of services. The platform host libraries with core functionalities that are essential in online marketplace operations or community on mobile phones.
The Pockero App will also allow support trading and exchange of assets through the use of
decentralized applications
(Dapp), such as Status or Civic.
Participation steps:
Start chatting with Pockero Network Crypto airdrop bot;
Pass the captcha to prove that you are a human;
Follow their official Twitter page;
Complete the other social tasks required;
Receive a reward of 200 PCKO ($15) tokens;
You can earn an addition 6 PCKO ($0.45) for every referral.
Requirements:
Telegram;
Twitter;
Email.

Delta Exchange
Estimated value: $10
End date: 21 December
The exchange is available to traders worldwide and features up to 100x leverage on its crypto contracts.
Participation requirements:
Go to the Delta Exchange Crypto airdrop Form;
Sign up for an account at Delta Exchange;
Get your email verified;
Follow Delta Exchange on Twitter and retweet their pinned tweet the pinned comment;
Submit your details to the Crypto airdrop form;
You will get $10 worth of BTC as a welcome bonus within 72 hours (Trading profits can be withdrawn).
Requirements:

WazirX
Estimated value: $60
End date: 25 December
WazirX
is one of the most reputable exchanges in India that support the purchasing and trading of cryptos, such as Bitcoin, Ethereum, Litecoin, Ripple, and many other assets on its platform.
Users can easily navigate their interface, which features useful elements, such as open order books, charting, trade history, deposit and withdrawals functions. WazirX was recently acquired by the popular
Binance
exchange, and it will enable users to buy and sell crypto using Rupees.
WazirX is currently listed on CoinMarketCap, with over 100 trading pairs and a total volume of €404,357.
Participation steps:
Go to the WazirX Crypto airdrop Page;
Register with your details, and have your email verified;
Login and upload the documents and photos for the KYC procedure (ID Front, Back & Selfie with ID);
After your identity has been verified, you will have to deposit a minimum of 1 XRP or 0.001 LTC;
The exchange will give you a bonus of 200 WRX ($60), which you can use in your first trade.
Requirements:
Conclusion
This has been our article on the top crypto airdrops you should look out for this December. Be sure you have read the rules of the campaign correctly, and always be on the wary of any suspicious activity.
Featured image: crypto-news.net