Shiba Inu (SHIB), the "DOGECOIN KILLER," has just flipped Polygon (MATIC) in terms of market capitalization and now becomes the 13th biggest cryptocurrency in the world.
At the time of writing, SHIB is trading at $0.00003114, up 1.5% from the previous trading session. However, the 24-hour trading volume for the token is down -5.86% compared to the last trading session, currently standing at $1,643,507,136.22.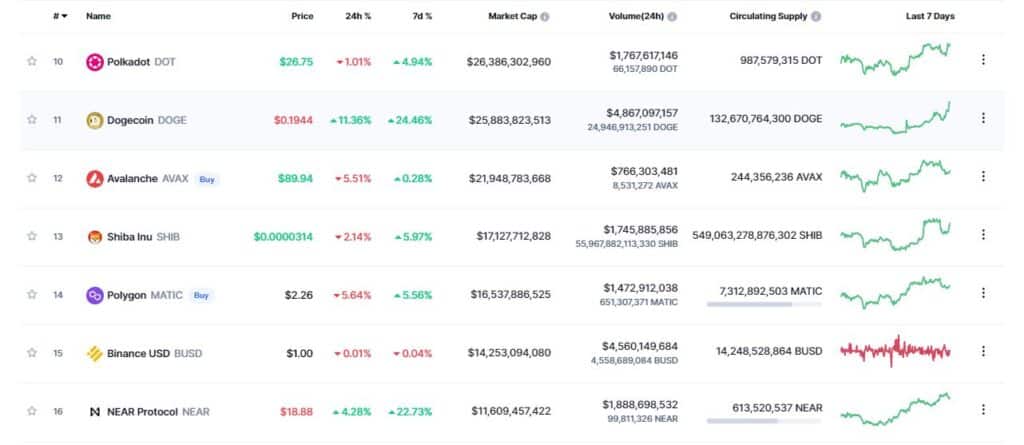 On the other hand, Polygon (MATIC) cannot sustain its bull run and has fallen -5.50% in value compared to the previous trading session. The price for one Polygon is $2.26. The 24-hour trading volume for the coin also nosedived -21.08% to $1,488,636,592.44 compared to the previous trading session. This sudden decrease in volume means buyers don't seem to be interested in buying Polygon at high prices. Because of the lack of interest from buyers, Polygon was unable to sustain its price, so SHIB grabbed the 13th spot from Polygon.
SHIB Markecap is currently standing at $16 Billion market cap while Shib competitor Doge has a market cap of $25B. Shib ought to add $9B to its market cap to cross Doge that is present at 11th place and to advance in the top ten SHIB requires to cross Polkador whose market cap is $25.9B. To join the top 10 SHIB needs an additional Ten Billion dollars in its market cap.
It is not an effortless task, it can ensue in two ways if other coins kept on falling while SHIB price climbs, or if shib price is able to grow faster as compared to its opponents. Earning the landmark of entering in top 10 demands some real hard work. It will happen only if SHIB use cases, exchange listing, and utility kept on boosting. If the SHIB ecosystem inflates it will support shib price.
Now the question arises, why are traders taking an interest in SHIB instead of Polygon? From the previous few days, there are hell lots of positive news coming for the Shiba Inu ecosystem. ZeroHedge, a far-right libertarian financial blog followed by millions of people, recently revived the rumors about Robinhood listing for SHIB. According to the source, Robinhood plans to list the Shiba Inu token in February.
This news got significant attention. Even, Ethereum whales started taking an interest in the token following the rumor. As a result, SHIB becomes the most prominent token position by dollar value among the top 1000 ETH whale wallets overnight.
But we can assume one thing for sure, "Where There's a Smoke, There's a Fire." If Whales are filling up their bags like the world's third-biggest ETH Whale' Light' bought 58,900,000,000 Shiba Inu tokens for $1.9M, making SHIB her largest holding yesterday. This behavior from whales signals that they have a piece of some Insider Information regarding Robinhood listing or maybe some other "Big News."
Apart from this, Steven Cooper, an owner of Bigger Entertainment, has arranged another burn party on February 14, in which he planned to burn another billion tokens in one day. His company has already achieved 1 billion burning milestones before.
NFL players are also fans of SHIB, and one of the famous NFL Players named "Brandon King" has also bought the dip for SHIB.
On one side, the demand is growing for the SHIB, and on the other side, Burning is gaining momentum day after day, decreasing the supply. This has set the stage for Shiba Inu to soon advance in the Top 10 positions in market capitalization.