Bitcoin more popular than Netflix stock among millennials; GBTC one of their top 5 equity holdings

QUICK TAKE
Millennials have a higher equity holding in Grayscale's Bitcoin Trust (GBTC) investment product than Netflix stock
The details were revealed by brokerage giant Charles Schwab in its latest report
Notably, GBTC is not in the top 10 equity holdings by Gen X and baby boomers
More millennials hold a bitcoin-tied investment product in their investment portfolios than Netflix stock, according to a recent report from brokerage giant Charles Schwab.
The report,
published
Wednesday, showed that millennials (currently
aged
between 25-39) have a higher holding in Grayscale's Bitcoin Trust (GBTC) investment product at 1.84% than Netflix stock at 1.58%. Schwab publishes this report every quarter and collects data from nearly 142,000 retirement plan participants who currently have balances between $5,000 and $10 million in their Schwab Personal Choice Retirement Account.
GBTC is also more popular than stocks of Warren Buffett's conglomerate Berkshire Hathaway, Walt Disney, Microsoft, and Alibaba.
Top 10 equity holdings across generations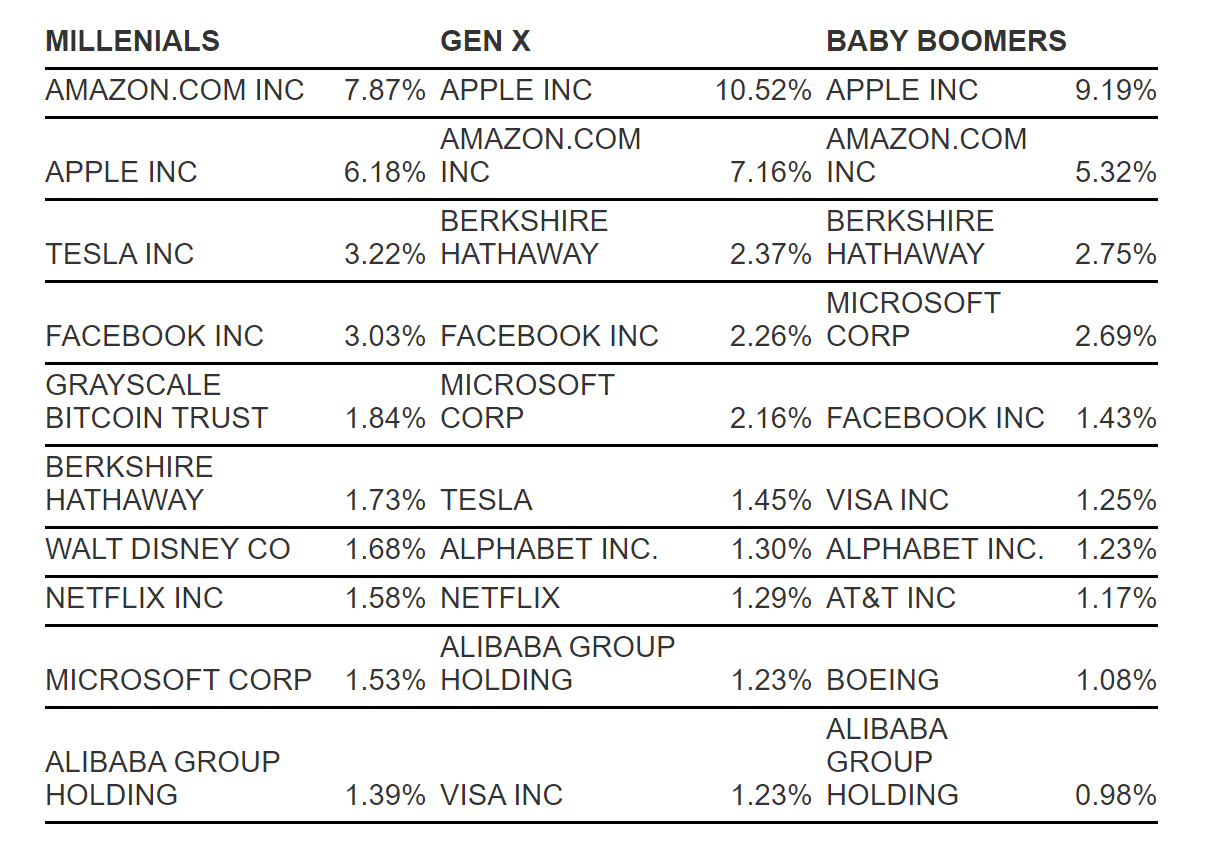 Source: Charles Schwab
GBTC
Digital Currency Group-owned Grayscale
launched
GBTC in 2013 as a private placement to accredited investors and, in 2015, received approval from the Financial Industry Regulatory Authority (FINRA) to offer publicly-traded shares.
GBTC is arguably the most successful cryptocurrency investment product, which
saw
a total cumulative inflow of $304.4 million for the 12 months ending in September. Grayscale once also filed for a bitcoin exchange-traded product (ETF) in 2017, but later that year withdrew its application as the U.S. Securities and Exchange Commission (SEC) rejected the Winklevoss Brothers' bitcoin ETF.
To date, the SEC has not approved any
bitcoin ETF
proposal, citing market manipulation and fraudulent activity concerns. However, if the regulator ever approves one, GBTC and other bitcoin investment products could lose traction, some market observers
told The Block
last month.
Gen X and baby boomers?
Notably, GBTC is not in the top 10 equity holdings by Gen X (currently
aged
between 40-54 years) and baby boomers (55-75 years). Both the generations' top three equity holdings are Apple, Amazon and Berkshire Hathaway stocks, per the Schwab's report.
The average account balance for all participants in the third quarter of 2019 was $276,929, nearly identical to the $276,547 from the previous quarter and 1% above the average balance from the third quarter of 2018 ($275,362), per the report. Baby Boomers had the highest account balances at an average of $394,064, followed by Gen X at $213,018, and millennials at $68,756.
Schwab is currently the biggest investment brokerage firm in the U.S. with $3.2 trillion in assets under management. Just last month, the company announced that it is
set to acquire
crypto-friendly rival TD Ameritrade for $26 billion. The deal is expected to close in the second half of 2020 and the combined entity will manage over $5 trillion in client assets and serve 24 million client accounts.
Schwab and TD Ameritrade have two very different approaches to the cryptocurrency market; the former doesn't yet allow any crypto trading services, while the latter offers trading in bitcoin futures via derivatives exchange giant CME Group and is also an investor in crypto exchange ErisX. The Block recently reported that the Schwab-TD deal
could cast doubt
on the potential for crypto trading on TD and may also impact ErisX.