Kinesis Velocity Token is Restoring the Gold Standard Using 21st Century Technology!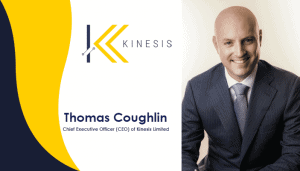 Gold and silver have been used as currency for centuries. These precious metals are beautiful and valuable. Today, smart investors use gold and silver to store their wealth over the long term. This is because these precious metals rarely dip in value. Before the great depression of the 1930s the majority of the currencies around the world were assigned value according to how much gold they could buy. This was collectively known as the Gold Standard.
This method of currency valuation was not complicated and it provided an easy means of currency valuation. Despite this, many economies around the world moved on from the Gold Standard. Today, factors such as natural resources, geopolitics, and industrialization normally determine how much currencies are worth. This creates immense volatility. Thankfully, a solution is at hand. The
Kinesis
Velocity Token has been developed to return the world to the Gold Standard by implementing 21st-century technology!
Signup Here
Discover the Kinesis Velocity Token
Kinesis
Velocity Token (KVT) is fundamentally a monetary system. It is built upon the most stable stores of value today. These are silver and gold. Through this token, these precious metals attain a characteristic that they previously didn't have.
This is the ability to assign a definable value to a cryptocurrency based on Net Present Value (NPV) calculations. After this has been accomplished, the cryptocurrency can be used in retail, commercial and institutional investments.
The Kinesis Velocity Token has been developed with the help of
Allocated Bullion Exchange
(ABX). This is the leading electronic exchange for physical precious metals. ABX has been running since 2013. The exchange has extensive experience with gold and silver.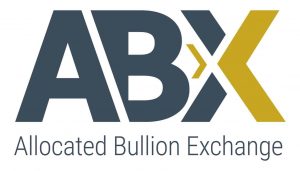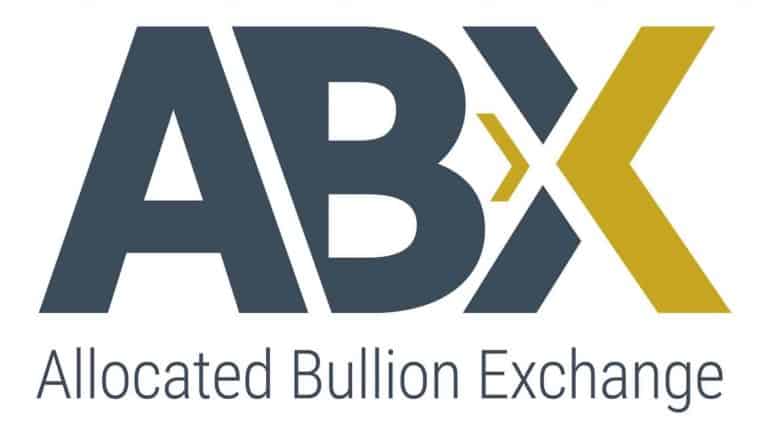 Allocated Bullion Exchange
As a matter of fact, ABX is backing KVT thanks to a partnership with a Deutsche Borse Group clearing house. This establishment already has 7 locations around the globe which store physical, gold bullion. As such, KVT has direct access to the $2.1 trillion precious metals industry.
Holders of the
Kinesis
Velocity Token have access to a mobile wallet and a debit card. They can use it to liquidate their precious metals at any merchant that accepts cards. Examples of such are VISA, MasterCard and Point of Sale (PoS) terminals.
Through this token, precious metals can be converted into cryptocurrencies. After that, they can be spent online or in the real world. The Kinesis Velocity Token (KVT) is totally immune to volatility, price variations and uncertainty. It is a debt-free instrument. As a matter of fact, it is an investment class of its own. By transforming value from precious metals to digital currency, KVT can solve many problems in the economic environment today.
Take a peek at the technology which is used in Kinesis Velocity Token
The
Kinesis
Velocity Token (KVT) is built upon the Stellar platform. It is essentially a link between the precious metals market ABX and a customized fork of the Stellar Blockchain technology. Hence, it is a hybrid technology. Kinesis can process more than 3,000 transactions per second. The
Kinesis
Velocity Token is paired up with precious metals at a ratio of 1:1. This token is currently available for purchase through an ITO.
All about the Kinesis Velocity Token (KVT) ITO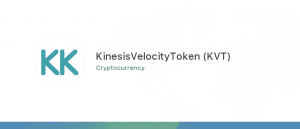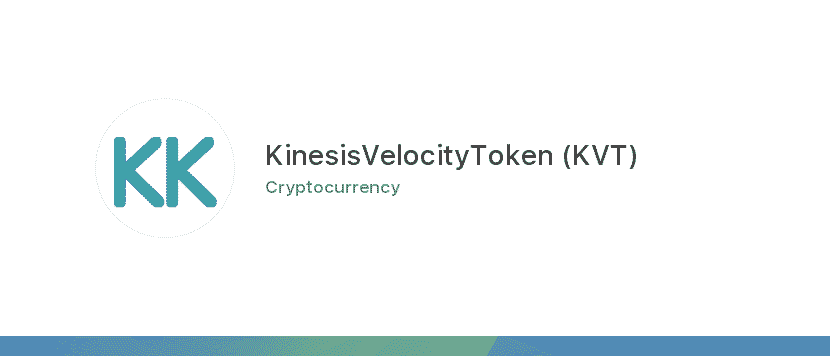 Kinesis Velocity Token (KVT)
The
Kinesis
Velocity Token (KVT) can be purchased through an Initial Token Offering (ITO) in its official website. The token sale began on September 10
th
2018 and will end on March 18
th
2019. There are currently 210,000 KVT which you can buy through the ITO. 90,000 KVT are reserved. The token is currently trading at a cost of $1000 USD. The minimum investment which you can make is 1 KVT.
The KVT token distribution
210,000 KVT will be sold through the Initial Token Offering (ITO). This is 70% of all KVT.
The Bounty Campaign and the Marketing effort will be funded using 3% of all KVT. This is 9,000 KVT each.
15,000 KVT will be granted to the Project Advisors. This represents 5% of all tokens which are available.
30,000 KVT will be kept in reserve. This is 10% of all KVT.
The team that developed the Kinesis Velocity Token
The developers of KVT met at the Allocated Bullion Exchange (ABX) in 2011. They hit it off immediately and have been involved in private and state Blockchain projects. They have also actively participated in cryptocurrency creation. Over time, they created the Kinesis Monetary System. Today, this system is being monetized through an Initial Token Offering (ITO). Kinesis Limited is registered in the Cayman Islands.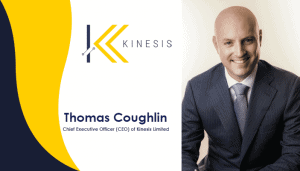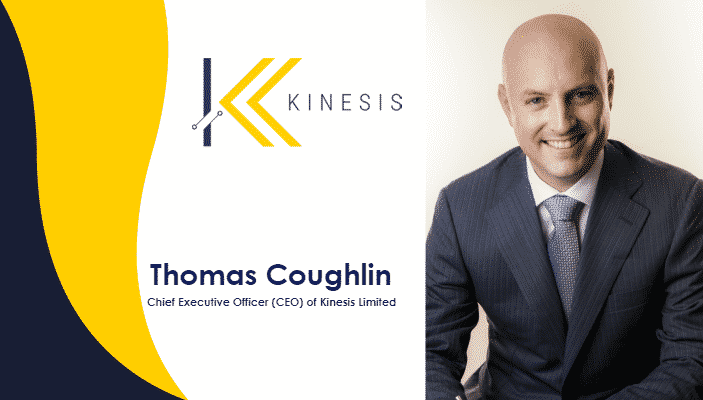 Thomas Coughlin
The Chief Executive Officer (CEO) of Kinesis Limited and the Allocated Bullion Exchange (ABX) is Thomas Coughlin. He has 17 years of experience working in fund management, bullion and investment industries. He has played a major part in constructing an international bullion market that is made up of advisers, central bankers, fund managers and brokers. Thanks to his knowledge and experience, Thomas can provide excellent insight and value to all stakeholders of Kinesis Limited and ABX.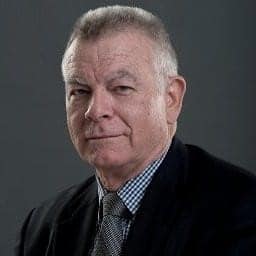 Michael Coughlin
Michael Coughlin is the Chief Financial Officer (CFO) of Kinesis Limited and the Allocated Bullion Exchange (ABX). He has 41 years of experience as a CPA specializing in financial services and accountancy. Since 1984, he has operated and maintained a public accountancy firm located in Brisbane. Thanks to this extensive experience, Michael is uniquely skilled to provide financial guidance to Kinesis Limited.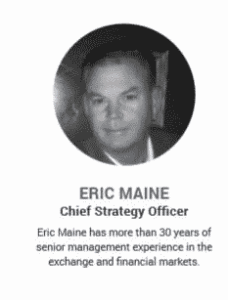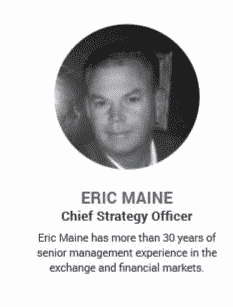 Eric Maine
After more than 3 decades of active practice being a senior manager in the financial markets and exchanges, Eric Maine is an excellent Chief Strategy Officer (CSO) for Kinesis Limited. Having sat in influential financial bodies such as the New York Board of Trade, he has the judgment and acumen that's required to provide strategic leadership to the company.
Over the centuries, wars have been waged and economies developed using gold and silver. For a long time, these precious metals have been regarded as ideal holders of financial power. Thanks to the Kinesis Velocity Token (KVT) gold and silver have been merged with Blockchain technology. This token ushers in a level of liquidity and yield to these precious metals which has never been seen before!
Cons:
It's all so well reading the pros of a company however its also very important to learn the cons, whilst Kinesis seems to have a great concept, their team communication seems to let them down. GadgetGang was sad to see that once they received the service from us, they decided to totally ignore any messages from us. We also struggled to get in contact with them and didn't receive any replies from their email.
Just bear in mind that communication is key within a business, poor communication leads to poor business. Just remember this before you go ahead and invest money into Kinesis. It may look good from the outside but the team management seems to be poor.