344 Million Shiba Inu (SHIB) Burned Within Last 24 Hours; Travis Johnson's SHIB Burn Games Appears to be The Top Burner of the Day.
Over 344 million Shiba Inu (SHIB) tokens have been sent to dead wallets within the period of the last 24 hours. The burning rate surges 3423.04% compared to the previous day.
As per a recent tweet from the SHIB burn tracking website, Shibburn.com, community-led initiatives have been able to burn a total of 344,955,749 (344.95M) SHIB within the past 24 hours, through 24 separate transactions.
The burn rate appears to surge 3423.04% over the last day when only 11,026,000 (11.02M) SHIB tokens had been taken out of circulation forever, through 5 separate transactions.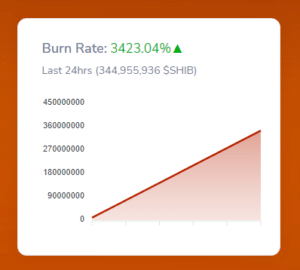 Top SHIB Burner of the Day:
Travis Johnson's SHIB burn games appear to be one of the top Shiba Inu burners of the day. Travis Johnson's SHIB burn games' official Twitter handle (@shib_superstore) acclaims that it has sent a total of 328,089,390 (328.08M) SHIB tokens, worth $8,490 to the dead wallet while organizing the "Monthly Burn Event".
The project has also shared the transaction link with its followers as proof of burn via tweet.
(ads2)
Travis Johnson's SHIB burn games include Brick Busters, Candy Trips, and Zombie Assassins. The project's official website claims that Bricks Buster is currently their number one SHIB burner, and 100% of the revenue earned from the game goes towards burning SHIB. Brick Busters currently has over 10,000+ downloads, as per Google Play Store.
Since November 2021, the project has earned total revenue of $45,912 through apps, which in turn was used to burn a whopping 1,698,186,364 (1.69B) SHIB, as per the Burn data provided by the official website of Travis Johnson SHIB burn games.
The project recently introduced a new mobile application, "Shib Sphere", through which one will be able to connect all his/her social networks & entertainment in one place. Officially, 90% of revenue generated from this app will go towards burning SHIB, while the other 10% will be utilized for future improvements or updates of the app.
Disclaimer:
The opinion expressed here is not investment advice – it is provided for informational purposes only. It does not necessarily reflect the opinion of TheCryptoArea. Every investment and all trading involves risk, so you should always perform your own research prior to making decisions. We do not recommend investing money you cannot afford to lose.
Advertisment